Abigail Humber Nabs the First Female Ascent of Trebuchet 5.14b
...
Oct 2nd 2023

Sterling Athlete
Abigail Humber
Trebuchet (First Female Ascent) 5.14b/8c ✔
Abigail Humber ticks the box for the first female ascent of Trebuchet 5.14b/8c in the New River Gorge. Trebuchet is described as bouldery, pumpy and contains technical moves that will stimulate the minds of even the most well traveled climbers. Abigail recounts her send as well as what it means to her in a mini interview session.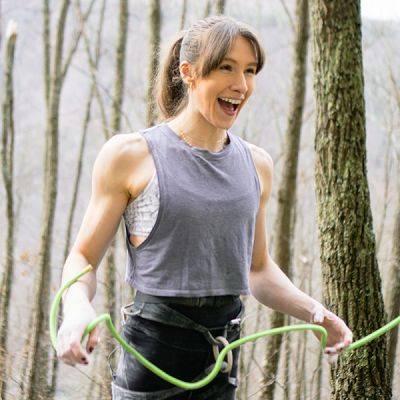 "I'm so incredibly grateful I was able to leave my mark on this magical place by becoming the first woman to climb this iconic route. The Cirque and the New River Gorge as a whole have given me so much more than I could ever express in words. It is home to me in the truest sense of the word.

I had a lot of doubts going into my send. I had superglued shut a large gash on my finger from slipping while cooking the night before, and had taken some pain medicine to block out the pain. Halfway up, I noticed the cut had reopened and was gushing blood everywhere. At the rest below the roof, I tried as hard as I could to wipe the blood off on my pants, but it just wouldn't stop bleeding. With the fear of slipping on my own blood in the back of my mind to say the least, I made the decision that I was going to try anyway. I'm so glad I did.

I felt like everything I'd been though in the past had prepared me for that moment, and for that I'm grateful, even for the struggles. Thank you to my family, friends, community at @sportrock and the folks at @sterlingrope for supporting me through everything. None of this would be possible without you. ❤ "

- Abigail Humber
How did you come across this project and, what about it made you want to pursue it?
When I first sent Baby Trebuchet (the 5.13b that makes up the first half of Trebuchet) a couple of years ago, I loved the route so much that I was sad to have completed it! I told myself that one day I would come back when I was stronger and do the full line (Trebuchet) so I could spend more time climbing Baby Treb, hahaha.
How long had you been training/projecting this route?
I only spent six days in total trying the route, two days a few months ago and four on the trip where I sent, but I was definitely expecting the process to take longer. However, before I went to the New River Gorge to try Trebuchet, I had just gotten back from the USA Climbing Team Trials. I had trained incredibly hard before that competition, and I think that training prepared me well for this route.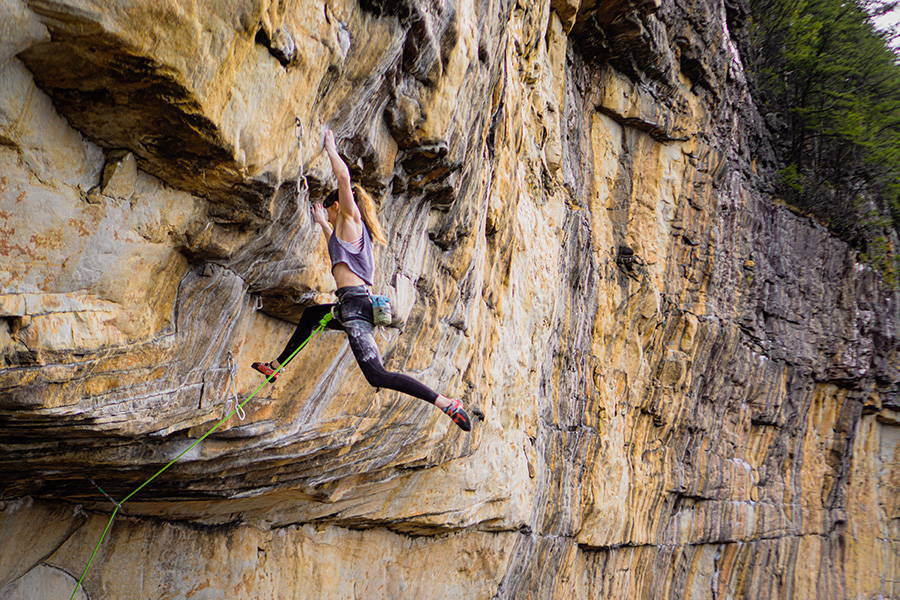 What does your send of Trebuchet mean to you?
It means a lot to have finally done the full version of one of my favorite routes, since I formed such a connection to the route when I first sent Baby Trebuchet. I'm also proud to have gotten the First Female Ascent, since one of the things I strive to prove to people with my climbing is that women are just as capable as men in the realm of athletics. Accomplishing my goal of sending Trebuchet built my confidence as well. Failure is such a part of improving, that it's easy for me to lose confidence on the way toward my goals. With every goal that I reach, it gives me more confidence to help me not lose faith in myself.
What are your longer term goals for climbing?
I really just want to see how much I am capable of in both the outdoor and comp arenas. I love the projecting process. I love the process of falling in love with a route and learning everything about it. While some people get frustrated or bored spending lots of time on a route, that is my favorite part of the process. I just want to find routes that challenge me to grow mentally and physically, and who knows, maybe someday my love of projecting will lead me to climb 9a or 5.15. I would love to compete on the IFSC World Cup circuit during my climbing career as well. I want to continue to work on being fully present in the moment at competitions so I can show my love of climbing to the world.