25 Years, 25 Partners. Profile #3: Kyle McCabe
jeimi.woffinden@zaneray.com BigCommerce
Nov 17th 2023

Kyle McCabe
Owner of Northern Arboriculture
In honor of Sterling's 25 years of making the world's finest rope and cord, we are celebrating our partners who have helped us get to where we are today. We will be profiling 25 dealers and partners across the industries we serve, highlighting our relationship with each..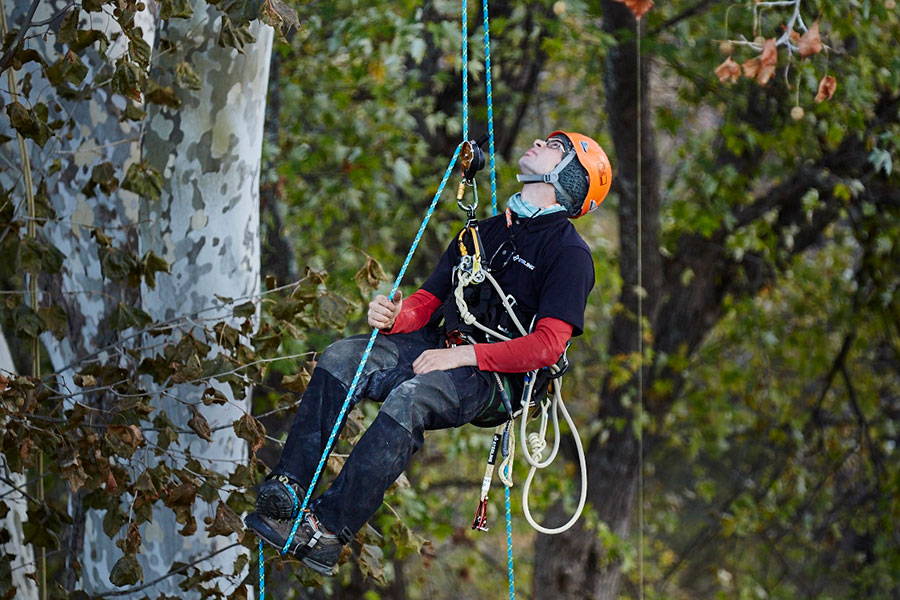 Kyle examining his climbing line, the 11.5mm Scion
I began working with Sterling back in 2003, I was a young US Team climbing athlete enjoying the crags of New England when I first met Paul Niland. I then began product testing rock climbing lines under Paul for Sterling. Since then I have continued my love for the outdoors and rock climbing. When I have the free time I enjoy developing new routes (sport and trad) and bouldering throughout New England.
Since 2007, I have had the pleasure of being a Sterling Athlete, representing them and their products at local and international level tree climbing competitions. The most recent North American Tree Climbing Competition I placed 4th among a very strong field of climbers.
I experienced my first factory training day and tradeshow for Sterling back in 2011 to promote the newly launched Arbor line and have continued my partnership with Sterling as a product tester. I now test the majority of the arbor lines Sterling has on the market. I found a love for research in college and I am incredibly grateful that Sterling has allowed me to continue that passion through product design and as a product tester. Working with Sterling has been a huge privilege and having the opportunity to not only test new products, but help design new products as well, has been a true highlight.
Northern Arboriculture was founded in September of 2008. The company consists of four employees, two of which are second-generation certified arborists. Our main focus is tree preservation throughout western New Hampshire and the lakes region. The company's demographic consists primarily of long term clientele interested in maintaining their trees, from the landscape to the forest. Our tools, education, and knowledge of the industry has helped us get to where we are today. Access can be limited in rural New Hampshire, therefore, being efficient on a rope and understanding how to properly rig trees has helped us find our niche in the industry.
Though my primary focus is on continuing the growth of the company, I also enjoy competing on the tree climbing competition circuit. I became involved in tree climbing competitions during college as a way to network and learn from others in the arborist industry. Tree climbing competitions have given me some amazing friends all across the country and showed me what a great community we have in the arborist industry. I compete regularly at ISA sanctioned events as well as a few other, just for fun, events throughout the year. If you are unfamiliar with tree climbing competitions, they consist of five qualifying events, Work Climb, Speed Climb, Throwline, Belayed Footlock (soon to be changed), and my personal favorite Aerial Rescue. The top three men and top three women after the qualifying events then go on to finals, aka, the Master's Challenge. The Master's Challenge requires each climber to assess the tree, install their climbing line from the ground, make their way through five or so different stations, and then clear their gear out of the tree all before timing out. The time allotted varies depending on the event and the difficulty of the tree but can be anywhere from 20 to 30 minutes. This may seem like a lot of time, but as any competitor can tell you, nothing eats up 20 or 30 minutes like a wayward throwline. Since starting in 2007, I have placed top 10 at numerous high-level tree competitions and hope to qualify for the International Tree Climbing Competition taking place in August.
For the last 15 years swinging from a rope, whether cliff side or in a tree canopy, has been a way of life and I am incredibly thankful that Sterling has been such a strong supporter of myself and my company throughout those 15 years. I hope to continue this partnership for many years to come.