Battling Imposter Syndrome in World Cup Climbing
Jesse Grupper
Jan 28th 2020

Jesse Grupper, World Cup
Photos by Eddie Fowke.
CHAMONIX, FRANCE - The second World Cup of the season. I'm coming off of my performance in Villars, which was my first time making semifinals in a World Cup. So I know I can perform well on this stage.
I grab two sloping crimps a quarter of the way up the wall, and instantly feel out of place. This doesn't feel right. And, just like that, I'm off the wall in no time. It's as if, with the first bad hold, I felt uncomfortable, and let go. I'm honestly just confused as I'm lowered to the ground. I know how close the playing field is, and that I don't have many chances. So why did I come off so early?
In Chamonix, I start noticing more and more where I am - big names left and right. The question of whether I compare to those around me keeps popping up. I'm unsure if I'm able to compete at this level. I doubt my abilities. What do other competitors think of my climbing? If I didn't do this or that move right, how can I compare? I've just shown my potential in Villars, but it's hard for me to not feel like it's a fluke - to not feel like an impostor.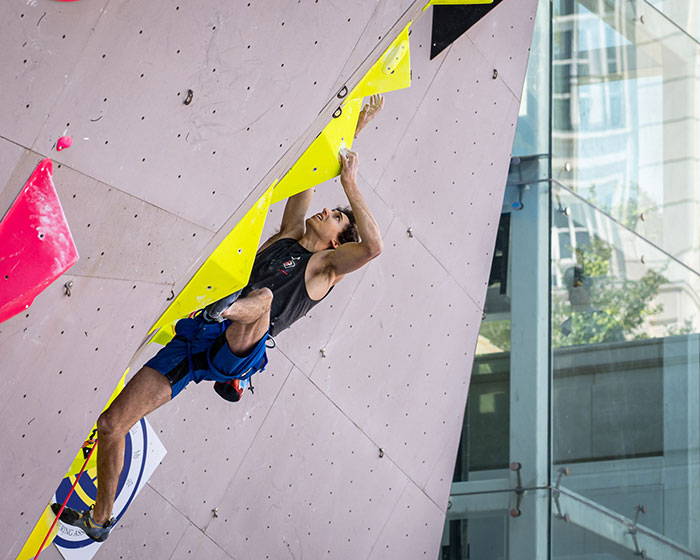 For the next two months, I thought hard about why my impostor syndrome seemed so pronounced in this competition. This is the first year that climbing will be in the Olympics and, with that, comes a heightened level of competition at international events. Even though I wasn't gunning for an Olympic spot, this competitive environment was more than I was used to. I had to remember why I was doing these competitions, and why I belonged here just as much as anyone else.
I got outside more, I found projects that inspired me. I traveled, picking where I wanted to go, because that's what I wanted to do. During this time, I remembered what I loved about the sport - having friends who push me to a new mental and physical capability, and appreciating the places that it can take me. By the next competition, I had been taking my own path, and following what I wanted to do. In turn, comparing my ambitions to others around me seemed to matter less.
XIAMEN, CHINA - The fifth World Cup of the Season. Two months have passed. My left foot perches low beneath me. I hear a clear voice from the audience yell "COM'ON JESSE." My right hand is tilted sideways on a sloping black hold that you can only fit one pad of each finger on. My right is below me on an incut sidepull. I leap. My left foot kicks off the wall. My left hand lands on the hold. For a moment I think I've stuck it. And then I fall. I clap my hands loudly as I swing down through the air. I breathe. That wasn't enough, I needed to stick that hold. Or so I think.
I turn to the crowd and raise my hands. I look over at Josh, the US team coach, and he nods at me. What does that mean? As I lower to the ground, I glance at the scoreboard. My jaw drops as I see my name in first. I sit in disbelief as I realize that I've just made my first World Cup finals.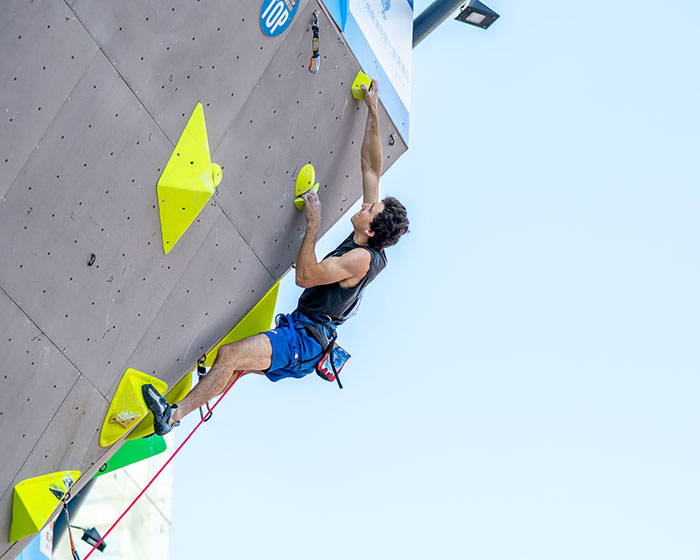 The next day I went on to Finals, and it was an unreal experience. It's weird to think that all the cheering in this facility is for me to do the best I can. Making it through the start of my finals problem, I feel a surge of relief - I can do these moves. While I could have performed better, I couldn't have been happier to make it this far on this stage.
That insecure climber who didn't believe that he had a place in these competitions in France transformed into a Finalist. In France I blew it. In China, something changed. But then I'm the same climber - same person.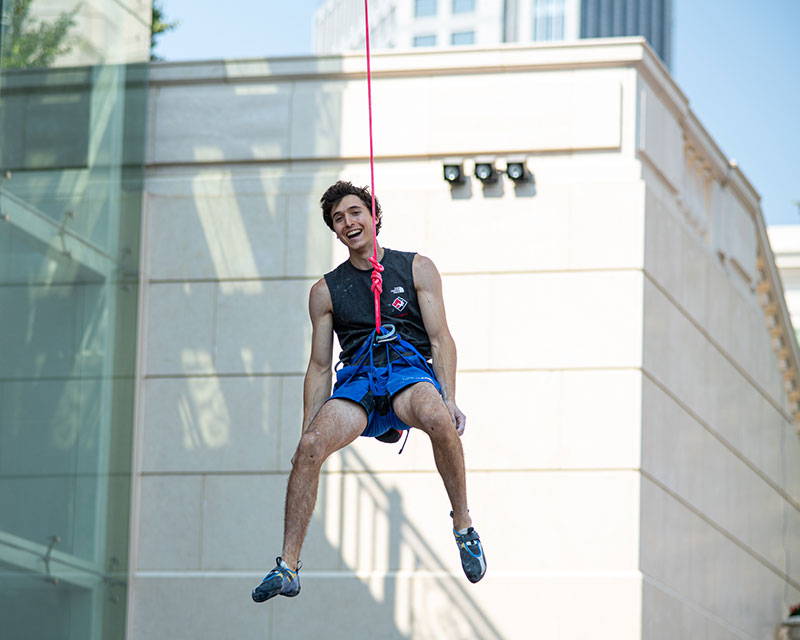 So, what changed between Chamonix and Xiamen?
World Cup climbs are set to make you feel uncomfortable - to make you feel like you're doing something wrong. It takes a shift in perspective, to realize that not being comfortable is sometimes the way it should feel. So maybe what I learned is that I should just let go sometimes, and enjoy that ride. That I'm here because I already proved that I'm capable of competing at this level, and sometimes that's more than enough.
When you're doing something that you only thought was a possibility in your dreams, feeling like an impostor can be inevitable. But if you show up, and you were chosen to fulfill the role, then you've earned your place. I have nothing to prove by competing. I've shown before that I have what it takes. And this, if anything, should take the pressure off, not apply it.
A World Cup Finals didn't seem to be on my radar at the beginning of the season. And that I would go on to do it again in Japan one week later just proved to me how I've been able to flip my mentality. It took time and a new perspective, but, by the end, I learned to ignore the noise and just climb. It's taken me almost the whole season to realize that I'm not an impostor on this stage, and haven't been since the beginning.
Thank you to those near and far for waking up early, staying up late, or just tuning in to watch me put up a fight. It always makes competitions all the more meaningful when I know I have a community behind me. Hopefully this is just a start!
Visit this site for the full results of the IFSC World Cup Climbing finals (spoiler alert: Jesse finished 7th!).