Ben Rueck: Dental Floss and Shoe String
Ben Rueck
Sep 26th 2023

Photo credit: Jeff Rueppel
I was trapped.
I traced the two lines attached to my harness back to China's Zhangjiajie National Forest's floor 60 meters below and gradually realized that half ropes were much more difficult to climb with than I'd thought previously.
Ten feet from a ledge my own ineptitude placed me in a position that not only left me without gear but also created so much rope drag that I couldn't move. I pulled in desperation on one of the "looser" lines and watched helpless as a size 0 green C3 Camelot from Black Diamond (a piece of gear roughly width of a finger) erupted from the crack 5 feet below. In an instant I went from a ten foot fall to a 40 foot drop onto what I dubbed a "suspect piece" – in other words I might as well have duct-taped the ropes to the wall for all the good the gear was going to do for me.
"Are you freaking kidding me!?" I muttered in exasperation. I knew I was in trouble because I didn't use the real explicative of the word "freaking".
An undeniable weight lay heavy on me in that moment. Even if I had the gear (which I'd ran out of) there was no placement and back tracking wasn't an option. The only way was up– but it felt like I was dragging an anvil with me.
How did I get into this situation you may ask? Well–
For the better part of an hour I'd been trying to claim the first ascent of a 65 meter route from the ground up. I'd fought flared cracks, fingers, and off width as well as my own inexperience as I criss-crossed my way up the sandstone-tower. Loose blocks and hollow flakes thwarted my movement at every chance as I placed marginal pieces and avoided simple sequences for fear of launching stone and raining death onto my belayer. I also lost all awareness of which rope was clipping into which piece of gear– like a pair of shoe laces I cinched myself tight.
I called the 8.4 mm Evolution Duetto ropes Dental Floss and Shoe String.
Both were the exact same length of 70 meters and diameter. They only differed in color– the purple rope was Dental Floss. The orange one– Shoe String.
I have never been so frustrated in all my life trying to learn a new system climbing. I'd never used twin ropes. Yet– while new routing and attempting insanely dangerous ground up ascents on untouched stone in China's world heritage national forest (which in it's own right is tough) my partner Mayan Smith-Gobat and myself decided that now was a good time to learn.
Mayan– a world renowned big wall climber, holding the women's speed record for the Nose in Yosemite National Park as well as an impressive tick-list of 5.14's, flaked the two ropes at the base of the an unknown tower. I was so tired from the previous week of hauling heavy loads all over the national forest that I didn't really remember that we'd left our single Aero rope 700 feet up a different tower days earlier.
"What is this?" I asked.
"It's what we got and we need to learn." Mayan replied in that matter-of-fact tone.
"I've never climbed on two ropes at once." I told Mayan.
"It'll be fine… just call out the lines that you are clipping." She said handing me Shoe String.
Racked with twenty pounds of aluminum and steel I set off into the unknown sandstone tower.
Compact sandstone that offered minimal and fiddly gear with long distances between placements began to unfold around me. A stark difference to my desert sandstone splitters. Instead of being soft– this rock was bullet proof. The only problem was it was also quite hollow and loose.
"This is just like climbing in the New River Gorge!" I exclaimed, excited.
But then the rock took a stark turn from fun and adventure to loose and terror.
With so many unknowns my focus began to waver and soon I was crossing the lines without extending the pieces of gear. One cross… two cross… three cross… my gear began to act like eyelets and the ropes string. Over a hundred feet up I laced the tower perfectly and in an attempt to pull slack I tensioned the entire system and felt everything tighten uncomfortably snug.
uh oh…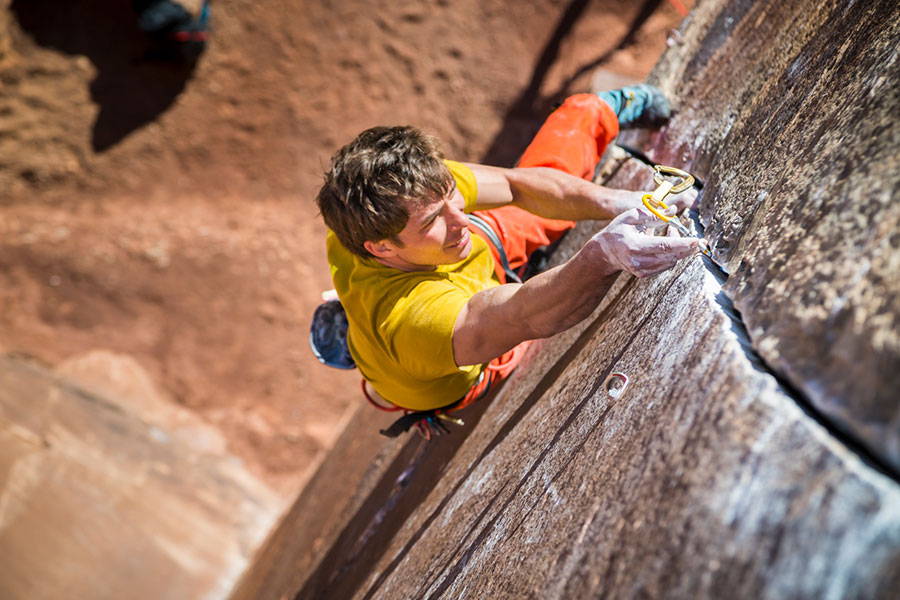 I clutched the rock assessing in my predicament for about five minutes before I decided that I either needed to abandon the climb or suck it up and punch for the top.
I noted that it was simple climbing and there were places were a sling could sit – I was out of those, but that didn't stop me from being able to grab the rope and pull enough micro-slack to set it on an outcrop to allow me movement for a few feet. For 15 minutes I struggled with this system and eventually dragged my body onto the ledge. Exhausted and a little embarrassed that I'd taken so long and made so many mistakes I began to drag bolting equipment to create a rappel station.
After setting the anchors I belayed Mayan to the top of the tower and we enjoyed a very short lived celebration before we rappelled down to the darkening forest floor below.
For the next few weeks Mayan and I worked with the two rope system and eventually I began to get the hang of it. One rope was designated to the left and one to the right and anytime I clipped I made sure that there was no cross over. Rope drag became memory as slings were extended and eventually the system itself became second nature as we progressed to taller and taller towers.
Shoe String and Dental Floss became less terrifying as rock crumbled and gear popped. After this experience it became clear to me that half ropes are necessary in the world of bigger walls for efficiency and safety.