Capturing the Climb: Top Gear for Climbing Photographers
Kieran Duncan
Jul 25th 2023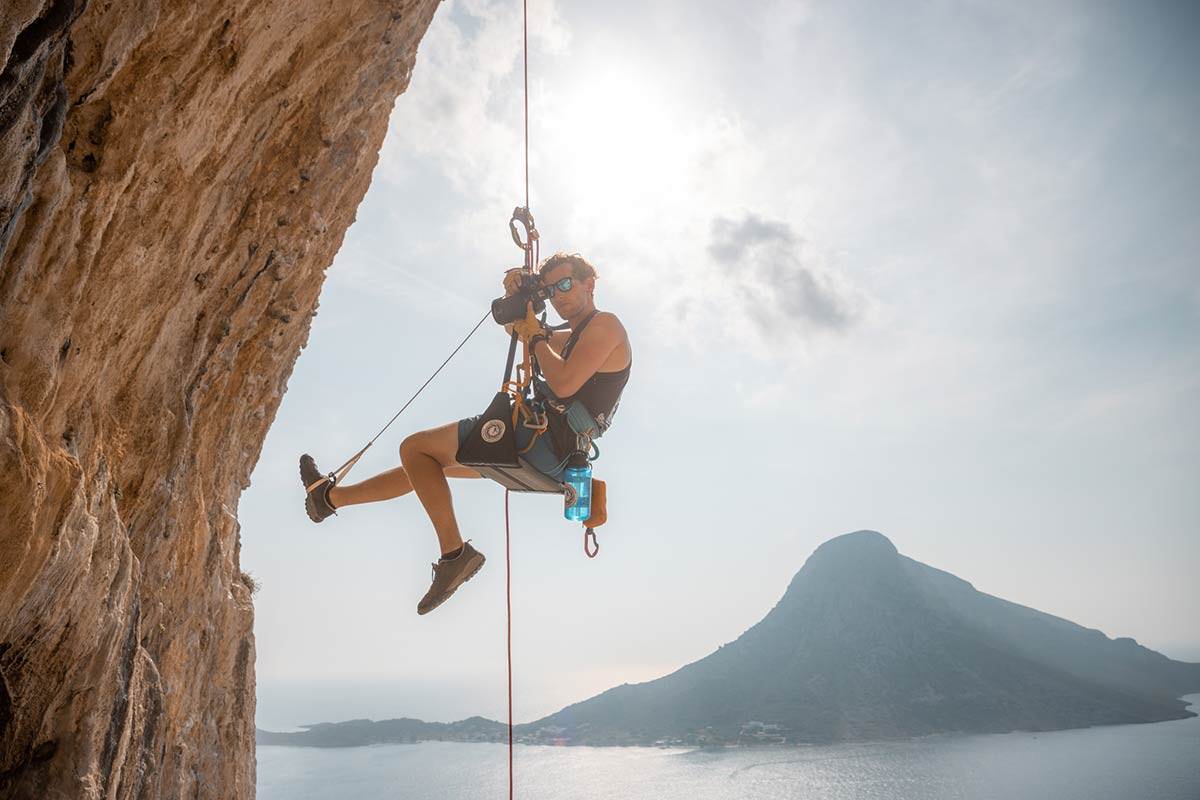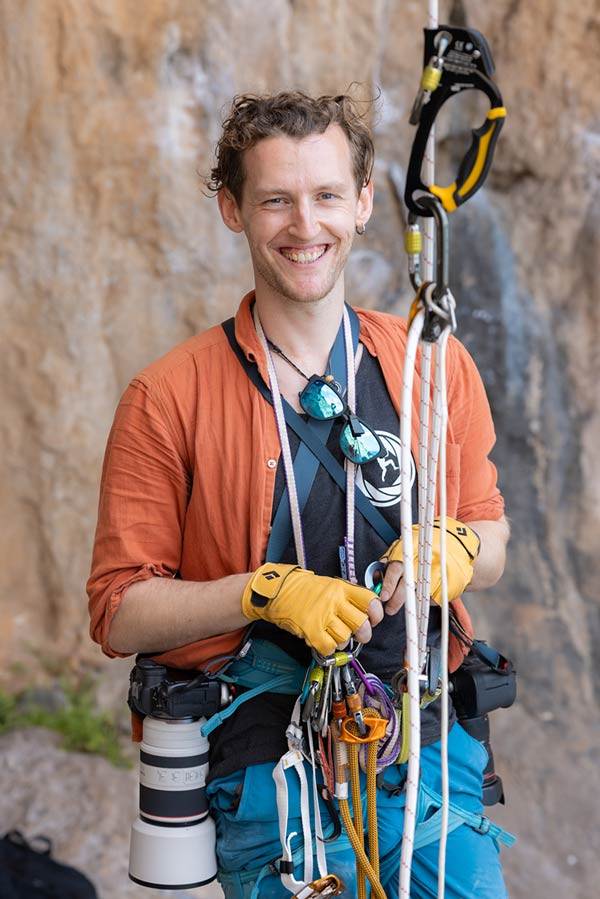 Kieran Duncan, Professional Photographer
In my work as a rock climbing photographer, I spend a lot of time dangling on ropes in a harness packed with equipment. Some of it is for cameras, some for safety, and some just for comfort or convenience. After 10 years of photographing and filming professional climbers across Europe, I've learned a lot of lessons (some easier than others) on what kit allows me to stay safe and comfortable, so I can focus on getting the best images I can.
I'm passionate about sharing that knowledge and excited to now be running climbing photography workshops in Kalymnos, Greece, introducing amateur photographers to the technical and creative skills needed to expand their climbing photography and finally ditch the butt-shots for good. As part of that, I've summarised my decade of experimentation into this handy list of my favorite gear for sport climbing photography.
Here are the things I wish I'd known sooner!
1- Peak Design Capture Clip
This is probably the best addition to my set-up in recent years. With the capture clip and pro-pad, I can holster both my cameras directly to my hips like a jumaring John Wayne. In the past, I used slings which often meant expensive gear swinging a bit too close to the rock for comfort, or taking small dedicated camera bags which would add weight. The capture clip is a superbly designed and robust way of attaching my cameras directly to my harness while ascending ropes and positioning myself on a rock face, plus it makes a very satisfying click as it locks into place.
The quick-connect Peak Design straps are easy to adjust on the fly and allow me to mount the strap to the side or base plate of the camera. The main advantage of the base plate is it stops the strap falling across and obscuring the camera screen if I'm shooting vertically. They look pretty stylish, too!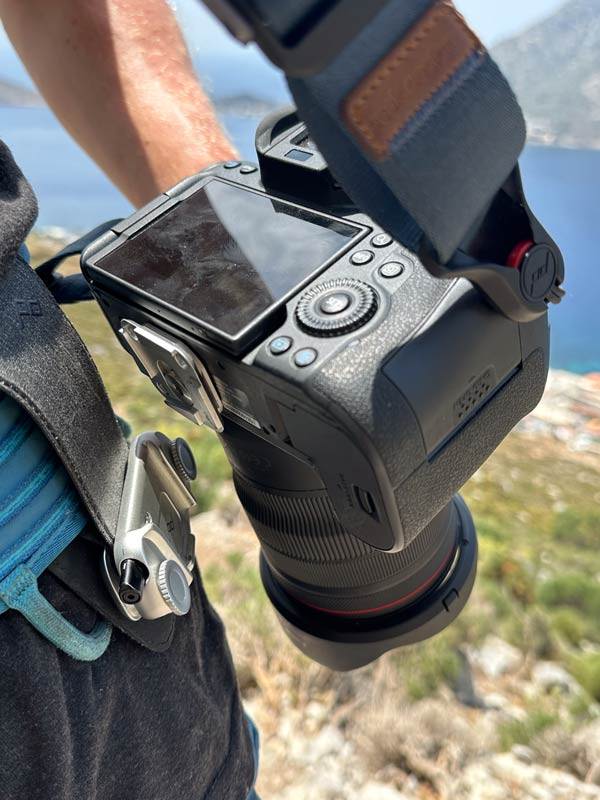 Another addition I wish I'd done sooner are some robust and comfortable gloves. You could use any hard-wearing work gloves, but I use the Black Diamond Stone gloves. The extra padding and protection really help lessen the impact of constant ropework on my hands and skin. I went for fingerless as most of my work is in Greece and Spain, but if I'm back home working in Scotland I'll be wearing something a bit warmer (and waterproof).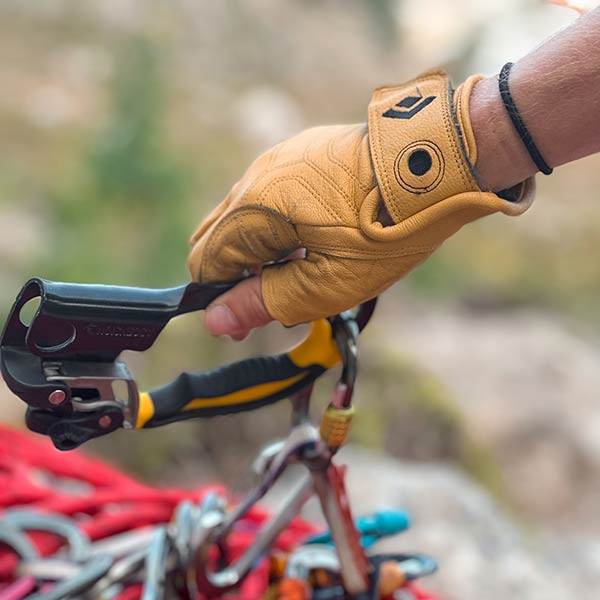 In the early days I'd often sit in my harness for an hour or two at a time to get the shot, battling the loss of circulation and "pins and needles" in my legs. Now, at the wise old age of 33, I realize how dangerous and unhealthy that can actually be. After a lower back injury made long stretches in the harness even more uncomfortable, I decided to invest in a bosun's chair and have never looked back. Sure, it's a bit of extra weight and effort… but the comfort is absolutely worth it, and it allows me to focus on getting great shots without the distraction of how numb my legs are.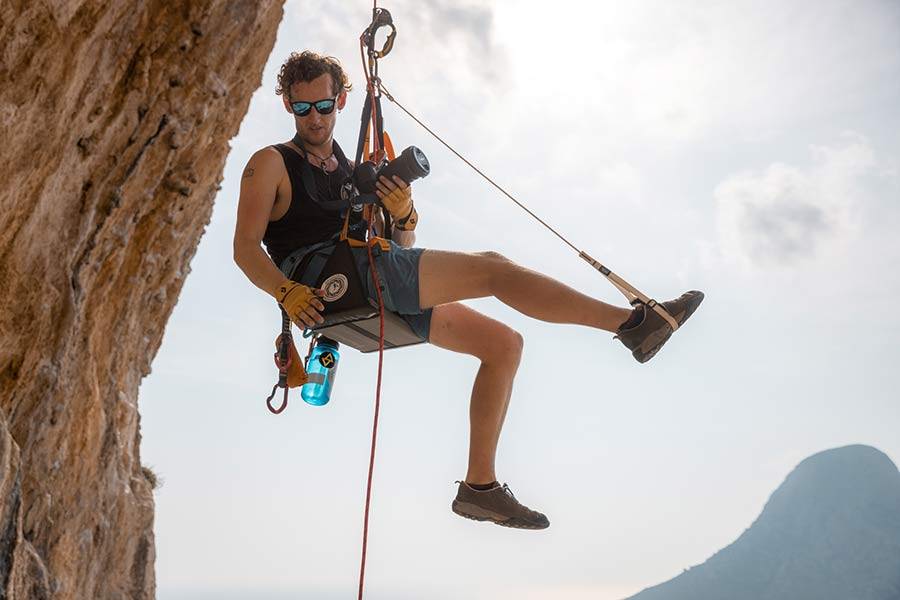 Picking the right rope is tricky. I use the 9 mm SafetyPro static line in 92 meters from Sterling as my primary work rope photographing sport climbing. Now you might be thinking "9mm seems a bit thin for a work rope", and you're not wrong! But with a 20kg+ backpack on those steep approaches, the grams per meter really start to matter. The durability of such a lightweight work rope is truly impressive, and it handles with the ease and fluidity of a high-end climbing rope. For shorter routes on the notoriously rough English gritstone, I use something a bit thicker and hard wearing like the 3/8" (or 10mm) WorkPro, but for long steep limestone routes in Spain and Greece, the Safety Pro is perfect!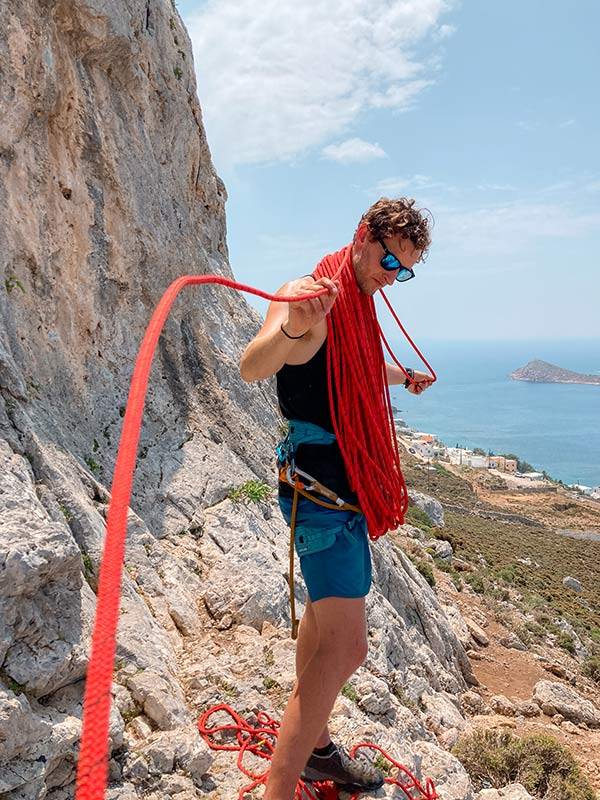 6- Petzl Dual Connect Adjust
Having a quick-adjustable personal anchor system was a game-changer for me. I use the Petzl Dual Connect Adjust, which allows me to quickly reposition myself on nearby bolts or other fixed lines. Having the second lanyard there comes in handy more often than you'd think and is worth the minimal extra weight.
I'm often being told off for not drinking enough water, and I do feel the effects of that after a long session on the rope. When I started taking my water with me it actually did make a noticeable difference to my comfort, it's better to have it and not need it than need it and not have it! Just don't take too much or you might need to bring a second empty one…
The reason I take a lightweight windproof jacket has little to do with the wind at all, but rather the sun! I'm from Scotland, a country notorious for its bad weather, and as a result, I'm not well accustomed to dealing with harsh sunlight. Having a shell that packs so tightly into itself means I can throw it on at any time to keep my back and shoulders cool. On the rare occasions when that cold northerly breeze has picked up, it also comes in very handy.
Everything I've listed so far needs to be carried somehow, right? The LowePro Whistler 450 is literally the perfect bag for a climbing photographer. It's a 10/10 camera bag as you'd normally expect from LowePro, but also a truly fantastic crag bag. There's a lot of extra space for all of my climbing hardware, accessories, food, and water, and I can secure my 94m rope to the exterior with ease. The real thing that sealed the deal for me was it fits into airline hand luggage, which allows me to keep my expensive cameras and lenses away from the delicate hands of airport baggage handlers.
Every day is a school day and I love to refine my systems and evaluate my setup. If you've got any thoughts on this list I'd love to hear about it, Just drop me a message on Instagram. And if you'd like to learn more about climbing photography, you can find more info about my workshop offerings on my website.