Gaz Leah: Life and Death in Oman
Gareth Leah
Nov 17th 2023

Photo Credit: Will Saunders @willsaundersphoto
I lay in blood and excrement on the floor of an old Omani Royal Air force Eurocopter. The deafening drone of the rotor blades makes my head throb as I stare blankly at the ceiling. The taste of blood in my mouth makes me want to vomit. Out of the corner of my left eye, I can see a large flap of skin hanging down my left cheek and out my right eye, a hole in my right foot about the size of a quarter that oozed blood onto the cold steel floor.
I drag myself into an upright position in the corner next to the open side door. The young airman who winched me up stands over me. He's asking me something in Arabic and pointing at my wounds but I don't understand him. I raise my left hand to show a thumbs up. He returns a smile and takes a seat at the back of the helicopter. Peering outside, the Al Hajar mountains illuminate incandescently as we fly to our final destination, Ibri Hospital.
In 2010, I attempted a new route on the incredible mountain of Jebel Misht in the Sultanate of Oman. During the ascent, I was hit by multiple rock fall leaving me with debilitating injuries to my face and foot. Alongside my climbing partner Hamza, we began our self rescue which involved hundreds of meters of rappelling into the unknown to reach the ground. From here, I crawled for hours upon hours through the Omani desert until I was bested by my injuries. Unable to continue, we sought help and I was eventually picked up by a Royal Oman military helicopter and air lifted to Ibri hospital where I was treated for fractures to my head and ankle. After some surgery, stitches, bandages and beers, I made a full recovery minus an ankle that has since refused to bend up or down very much. Returning to the UK for further medical treatment, I spent the next 6 months learning to walk again and re-evaluating my motivations for pretty much everything past, present and future. Coming so close to what could have been an untimely end suddenly made me feel very… well… human.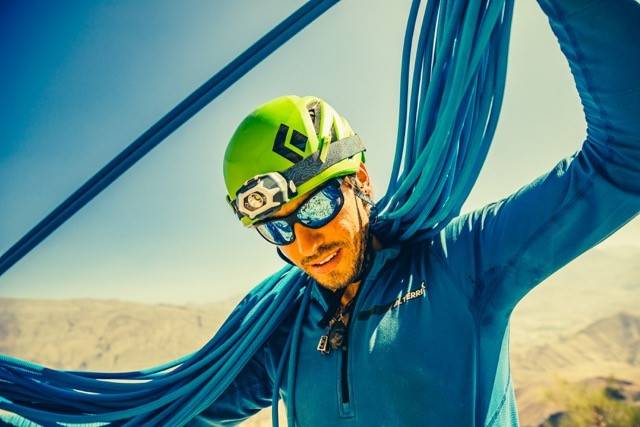 Photo Credit: Will Saunders @willsaundersphoto
The event left its mark on me both mentally and physically. My face scarred by a crescent line across my left cheek, a constant reminder of what I had survived and a reason to live life to the fullest. Not being someone that gives up, I always dreamed that one day I could return to Oman and complete the route that bested me. In November 2017, I decided it was time to put my demons to rest and return to Oman. This time around it would be with Sergio "Tiny" Almada, a climber who I'd spent hundreds of days with, questing into the unknown on big walls around the world.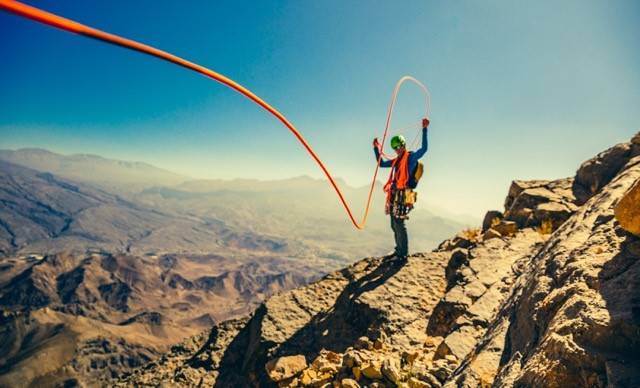 Photo Credit: Will Saunders @willsaundersphoto
The route we established starts out how we had initially planned, but due to the wall blanking out near the overhanging headwall and our strong trad ethics, we were forced to rappel / down climb several hundred meters back down to a large ledge where we spent a cold night shivering together. Having slept maybe two hours and shaken for many more, we awoke early the next day to make the difficult decision of continuing up on returning to the ground. Due to our retreat so high on the wall, we had only half our rack left, some snack bars and 1/2 a liter of water each to complete over 700m of climbing. We were also aware that with such little gear left, continuing higher up would be a gamble as we did not know if we would be able to make it down if we needed to bail.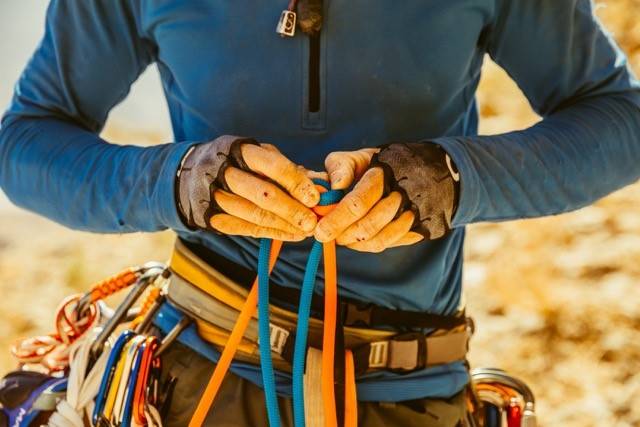 Photo Credit: Will Saunders @willsaundersphoto
One thing we did know was that in the intervening years, an Italian team had established a new route just a few meters to the left of where we were that went to the left of the roof. We knew that we could easily climb the grade of their route and with our options now very limited, we decided we would cross their route to get around the roof that forced us down and rejoin our planned route once above the roof.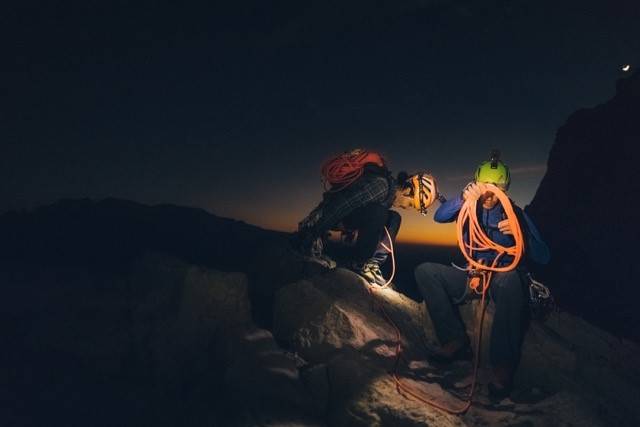 Photo Credit: Will Saunders @willsaundersphoto