How to Choose the Right Static Rope
Sterling Solid
Aug 16th 2023

When climbers shop for a static rope, it's important to consider the various applications the rope is intended for. Just as you carefully consider what rope is ideal for the style of climbing intended, similar considerations come into play for a static rope. A significant difference, however, is the choice of materials the rope is comprised of. While dynamic ropes are always made from nylon, static ropes can be made from a variety of different materials or even blends.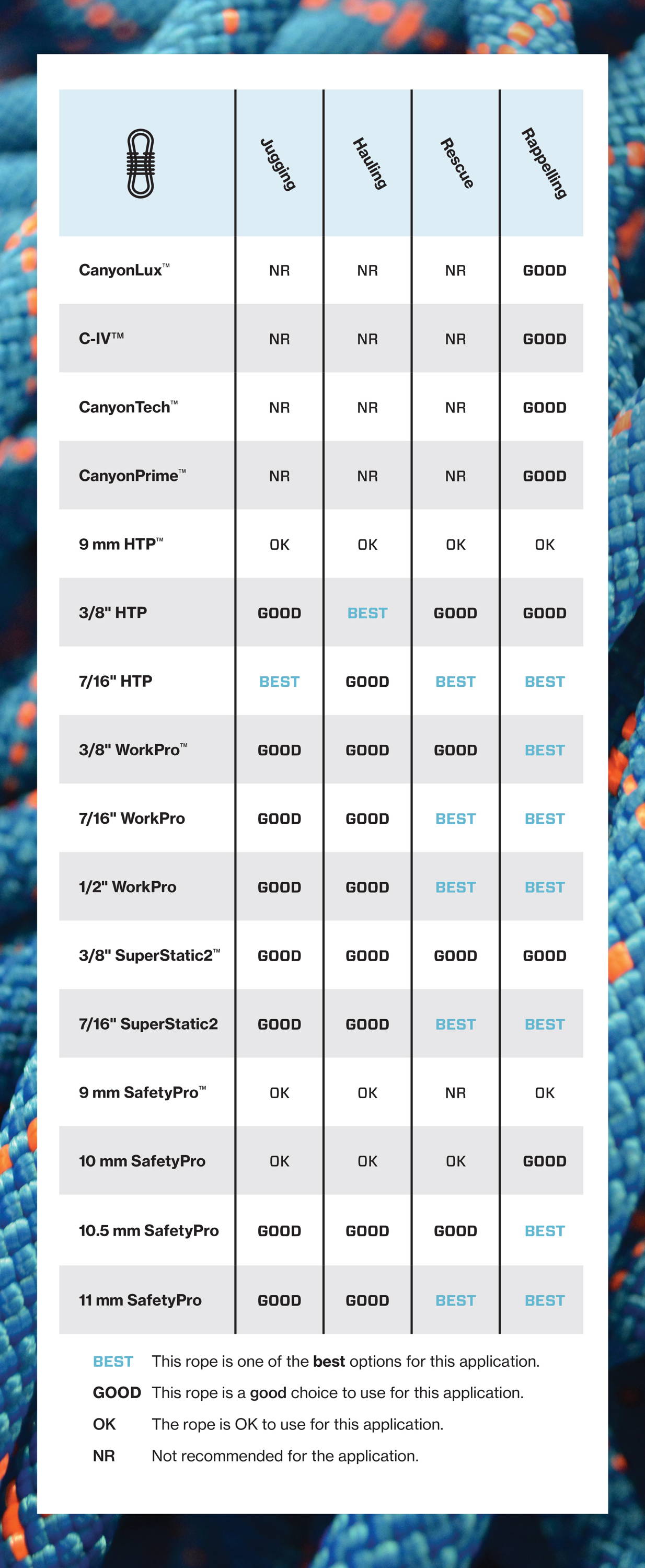 Canyoneering
Sterling makes four different ropes specifically for canyoneering. Three of these have ultra-tough aramid fibers in the sheath and are designed to stand up to the wet and abrasive conditions frequently encountered in canyons. Other ropes in the static lineup are suitable for use in canyoneering but the canyon ropes are the first choice if that is the primary intended application.
Jugging (aka Ascending)
Almost any static rope can be used as a jugging line. Some important properties to consider are sheath thickness and durability, weight, diameter, and elongation. If the rope is going to be a fixed line on a snow slope then it doesn't have to be a large diameter and strength isn't a primary factor. If the rope is going to be fixed on vertical or overhanging terrain then you may want to look at ropes at the lower end of the elongation spectrum, i.e., ropes with very little stretch.
Hauling
Many big wall climbers actually prefer larger diameter ropes for hauling loads, as they are more comfortable on the hands. Grabbing and pulling skinny ropes gets difficult when your hands are swollen and beaten from multiple days of climbing and hauling in a row. Indeed most hauling is done with the mechanical advantage of pulleys and rope grabs (ascenders) but there is still a significant amount of time where you grab and pull the ropes with your hands. More experienced big wall climbers may choose smaller diameter ropes to reduce weight.
Rescue
Sterling makes a variety of ropes specifically for the technical rescue world. Smaller lightweight teams may choose to use skinnier, lighter static ropes for fast rescues of stranded or injured climbers. These ropes are not intended for large scale operations involving litters and attendants. The ropes listed here are perfect for single person 'pick-offs' where a single rescuer descends or is lowered to a victim.
Rappelling
If all you want a rope for is rappelling, then the medium and larger diameter ropes should be your first choices. A majority of rappel devices are designed for ropes up to 11mm diameter. For a smooth rappel without a lot of jerkiness or bouncing, look at the nylon ropes. For rappels where you want minimal rope stretch, something from the HTP lineup may be your best choice.