Kevin and the Cave
...
Oct 2nd 2023

Sterling Athlete Kevin Lindlau
Cinematographer Nathan Norby
Sterling Athlete Kevin Lindlau met up with Cinematographer Nathan Norby is to make a short film on a new dry tooling route Kevin Lindlau and Joe just put up.
The new route is a link up of some routes in the Bingo cave in Hyalite Canyon. It creates the longest roof route in the canyon almost tripling the length of the current hardest line.
Watch the film of Kevin climbing the new route that is pushing the boundaries of the sport in Bozeman!
Credits: Filmed on Traditional Lands of The Shoshone-Bannock, Apsaalooké, Salish Kootenai & Cheyenne.
Obviously featuring Kevin Lindlau
Film Crew - Directed by @nathannorby
Film Team @clairekleese @mountainratt and Joe Stylos.
"Now lets get a little behind-the-scenes beta from Kevin on projecting this route and his love for dry tooling as a sport:"
How did you get into dry tooling?
My motivation to start drytooling began after seeing the Ouray Ice Fest Elite Mixed competition for the first time in 2014. I was so amazed by the acrobatics that went on during the competition and was instantly intrigued with the sport. Fortunately my friend and mentor Marcus Garcia was heavily involved with this crazy style of climbing and was able to help guide me along the path into the techniques and skills required for Mixed climbing! Eventually I used these skills and transitioned into competition ice climbing where I compete on the USA Ice Climbing team competing around the world on the UIAA Ice Climbing World Cup circuit!
What do you love about the sport?
My favorite thing about mixed climbing other than the extremely exciting and unique routes that we get to climb, is the community that exists in this sport. Being a fairly young discipline of climbing the community is still fairly small in North America so you get to know a lot of your fellow climbers that participate in this odd style of climbing. Specifically on the competition side of things, competitors from around the world travel together for weeks on end, and I couldn't be more grateful for the time we get to spend with our competition community that feels more like a family with all of the camaraderie and support you receive from everyone on the tour!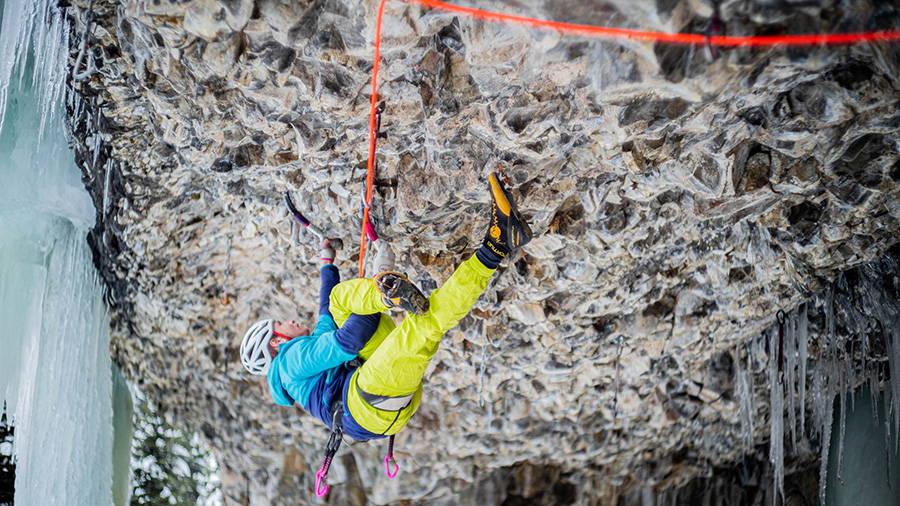 What was it like climbing this route- what did you find the most challenging, most rewarding, etc?
Climbing this route was a really fun challenge mentally and physically. The rock type in the cave makes for some really three dimensional climbing allowing you to spin 360 degrees of motion while in the roof! This made for really interesting beta as you climb across the cracks, pockets, and small edges required to traverse this steep route! One of the most challenging parts of this climb was keeping myself relaxed on some of the smaller natural features as you dangled on a single tool to continue onward. Some of the holds on the first couple days of attempts would rip off while you hung on them which made this all the more challenging to stay calm wondering if your hold would stay on or not. But with the help of my climbing partners they were able to help give me reminders to control my breathing which was key to finish the route! Clipping the anchor after years of wanting to bolt and climb this route was a very satisfying feeling and makes me very excited to see what else is possible and waiting to be climbed in the canyon!
What advice do you have for folks looking to get into or get better at drytooling?
I think the biggest thing I would recommend for anyone getting into the sport is to just remember to have fun and not be discouraged by this intimidating style of climbing. It is a very technique specific sport that takes time on routes to learn and feel more comfortable with your equipment on the rock, but with perseverance and good friends around you this sport is an absolute blast and well worth the effort to get involved with this amazing community!