Monique Forestier Tames Tiger Cat
Monique Forestier
Jan 13th 2020

Monique Forestier
Tiger Cat (graded 33, 8c, 5.14b)
My initial attempts on the 35-meter route called Tiger Cat (graded 33, 8c, 5.14b) were very encouraging indeed. I thought that this one would go down quickly. But surprisingly it became my nemesis. Tiger Cat is at Elphinstone, the super crag in the Blue Mountains. If you haven't heard of Elphinstone then check out some info here. The route was established in Jan 2013 by local climber Lee Cossey and has had several repeat ascents by local strong guns and high flying internationals. But most notably by local female climber Andrea Hah who turned it into her first ascent of a grade 33, big congrats to her. Tiger Cat is 35 meters long and has three distinct cruxes for me, all of which are quite bouldery but do-able, the key is linking it all together.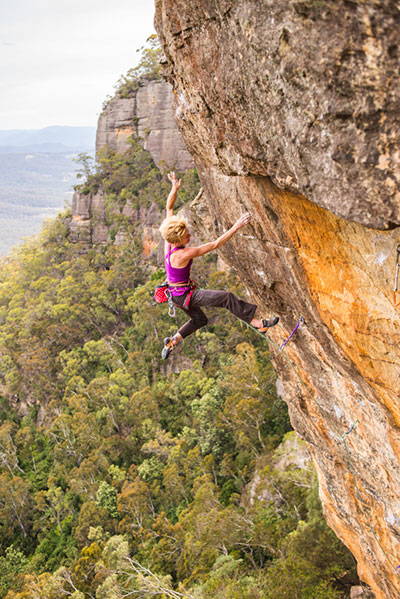 Monique Forestier
Tiger Cat (graded 33, 8c, 5.14b)
I was getting incredibly close each time, making it to the final quickdraw consistently and yet I could not convert this into a send. I was baffled. Perhaps I'd got to the point where I had already sent the route in my mind? Perhaps I wasn't hungry enough for the send? Frustrated I forced myself to take a step back and analyze what was going on.
Performing at my physical and mental limit is a hard balancing act with many variables. My motto is simple; control the things you can control and minimize the factors that you can't. I can control my mental state, I have the utmost faith in my belayer and my equipment (my Sterling Rope, my NanoIX in racy lime green) that, along with my ability to compartmentalize my fear, allow me to focus on the task at hand. However, throw in other factors like weather conditions, skin (or lack thereof), school pick-up time limits and it becomes a little more complex.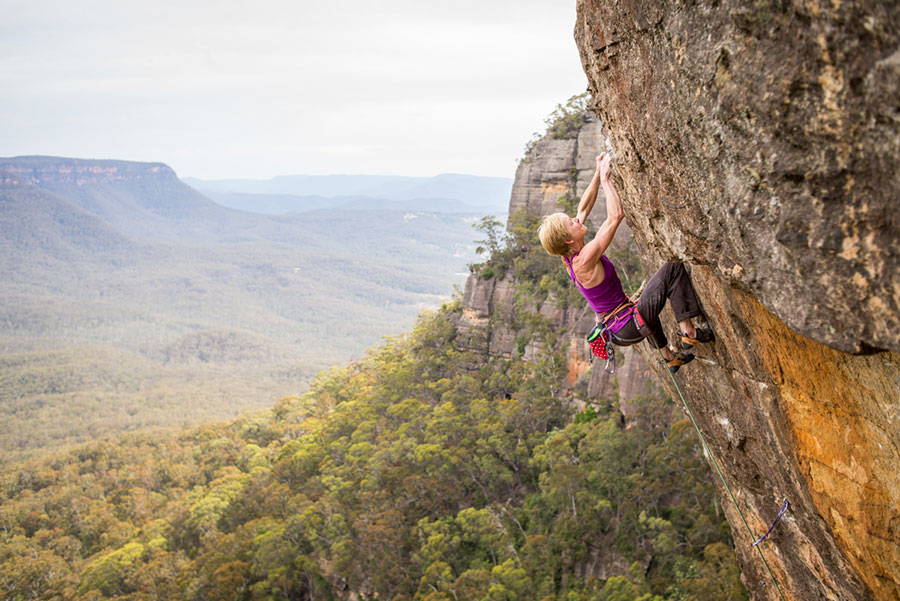 Photos and video by Simon Carter
So, by addressing these points perhaps that is why I sent Tiger Cat that day?
It was a quiet day at the crag, there was a gentle breeze and I had my personal head space, no one screaming at me just genuine encouragement from Simon. Almost silence, just me and the route. I listened to my body, rested when I needed to stay and went when I needed to go. When I got to the last rest I was pumped, but I tuned into where I was, and what I needed to do next. When I got the next left crimp, I was strong, when I did the cross–over to the slot I was fresh, really fresh, not melting, this was a surprise I thought to myself. I launched for the throw and stuck it, still I wasn't thinking that I had done the route, my mental alertness was thinking in the now, that was good. It wasn't until I clipped the anchors that I felt it. Relief, freedom, excitement. "Waaahoooooo!" I'm sure all of Katoomba heard it.
Watch the video capturing the send:
A version of this article was originally posted on Monique's blog. Read more about her adventures here.