Pete Whittaker: Winter Climbing?
Pete Whittaker
Nov 17th 2023

Originally posted on Pete Whittaker's Facebook page.
Photo credits: Helliker/Whittaker collection (c)
Standing at the bar at Kendal Mountain Film Festival, Matt Helliker leaned over and asked,
'So... do you fancy some winter climbing mate?'
Now I always thought winter climbing, and especially Scottish winter, was for grizzly old men with big, rough, grey beards and thick skin which reverberated the cold. My skin seemed too soft, I was still in my twenties so felt a little too young and having huge amounts of trouble growing anything you might describe as facial hair, I thought this style of climbing was a total write off for me.
But then I looked Matt up and down and he didn't seem to quite fit the Winter climber I had envisaged, so in a moment of madness my reply was simply,
'Yes.'
When I commit to something, its either all in or all out. So, having committed I now seemed to be all in, without fully understand what I was committing to.
No time was wasted and a miss match of axes, crampons, winter boots and make shift leashes were assembled and I made the 7-hour drive North to meet Matt in Scotland a few weeks later to shove, twist and torque my tools in cracks in many weird and wonderful ways, I'd yet to wear a crampon or hold an axe in anywhere other than my own kitchen, but Matt didn't seemed phased that I didn't have a clue what I was doing.
The deal was, to start with I would just second, to get a feel for what on earth was going on. 'Central Grooves' in Glen Coe was our first route and Matt seemed to hook and float like it was a total doddle. I got on it and realised that this was in fact because he's really good, and when his calls of 'hows it going down there' echoed down from his belay stance to me, I just replied confidently with 'yeh yeh all good mate', so he wouldn't notice that I was having a total mare.
Our second route was Strident Edge on The Ben, another VII 7, but I had a feel for the axes now and things seemed to go a little more smoothly and I topped out the easy scrambling ground of the buttress but this time with the ropes trailing behind me. I'd had hot aches multiple times, got really cold on hour long belays, but after two days of winter climbing I was hooked and excited to be learning a new skill. More was to be had.
My next trip, Matt was really ramping it up, no more grade VII 7's.
'What's on the cards for today?' I asked.
'Churchdoor Angels.' He replied.
'How hard is that?' I wondered.
'An unrepeated VIII 9.' He stated.
'Shit' I thought.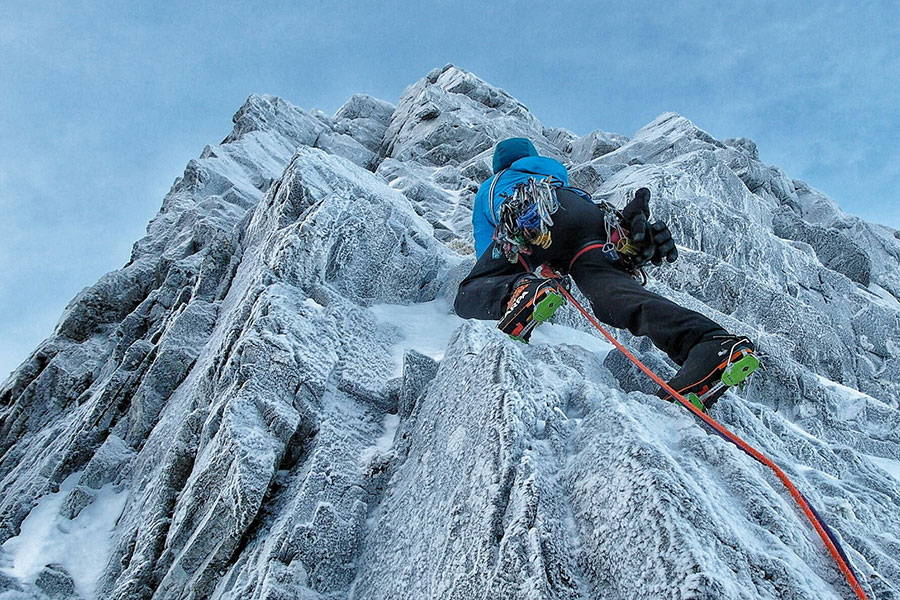 Originally posted on Pete Whittaker's Facebook page.
Photo credits: Helliker/Whittaker collection (c)
The first pitch went with relative ease, but then the second I knew was going to be a battle as it was the first time I'd seen Matt look like he was putting some effort in.
I inched my way up the corner system and adopted a hideous layback technique cranking off my axes sideways and smearing my crampons against the corner.
'Arh this is desperate Matt' I shouted up
'Remember about the frozen moss on the right wall for your foot' he called.
I stabbed my right foot out and got established for the finishing moves of the pitch, but not quite completing it before my frozen moss blew off the wall and I weighted the rope for the first time. I was pissed off the moss had blown on me, so I lowered back down to a resting ledge at half height and re-climbed the final part again in a oner. insanely pumped at the top I was pleased to manage it on my second try. Abseiling back down to the ground, we spied an unclimbed splitter crack in a blank face. How has that not been climbed? we mused with each other, and swiftly came to the conclusion we must be the first.
Two days later we were back. Myself, Matt and now Nick Bullock. I felt like such a punter new routing in a team with Matt and Nick (two of the best winter climbers around), but I was keen to put in my pennies worth on this route and do a proper pitch of leading. They recommended the starting pitch for me as it followed a hand width crack. Perfect.
Half way up the pitch, desperation set it, axes went firmly over the shoulder and I resorted to jamming my gloved mitts inside the crack. As I sunk my hand into three or four consecutive hand and fist jams, I prayed Nick and Matt hadn't noticed me cheating and revelled in the fact that the cold and icy jams felt pleasurable compared to hanging onto the handle of my torqued axe. Well its called mixed climbing for a reason right? ;)
I had a little 'moment' when I stepped left to get to the belay stance, but all seemed to go well and I felt pleased to have forged new ground on my first proper winter lead.
Matt crushed the second (crux) pitch, which ended up being a technical VII 8, and I heard laughter from above as I now tried to finger jam in the middle of the crux. Realising I wasn't going to 'mix' my way around these moves, the axe layback came out and again I was pleased to follow without a fall.
Nick then forged his way to the top on a final long pitch, in what looked like a very Bullock(esque) style.
'Ahh that cam is a bit shit. There's not really much else. ahh its a bit strenuous here. I'll have a look anyway.'
After a showering of snow and moss, he reached the top and me and Matt followed, topping out (on 'Dark Angel') just as the light faded.
4 perfect days of Scottish Winter, I couldn't have asked for a better introduction. I'm ready to suffer now.
Originally posted on Pete Whittaker's Facebook page.
Photo credits: Helliker/Whittaker collection (c)