Review of the Quest 9.6mm
Mollie Bailey, Outdoor Prolink Gear Tester
Apr 16th 2021

Photo credits: Molllie Bailey
A quality, durable rope; the Quest 9.6 mm is a fantastic choice for climbers who 'want it all' without sacrificing weight or suppleness.
This review was originally posted on Outdoor Prolink.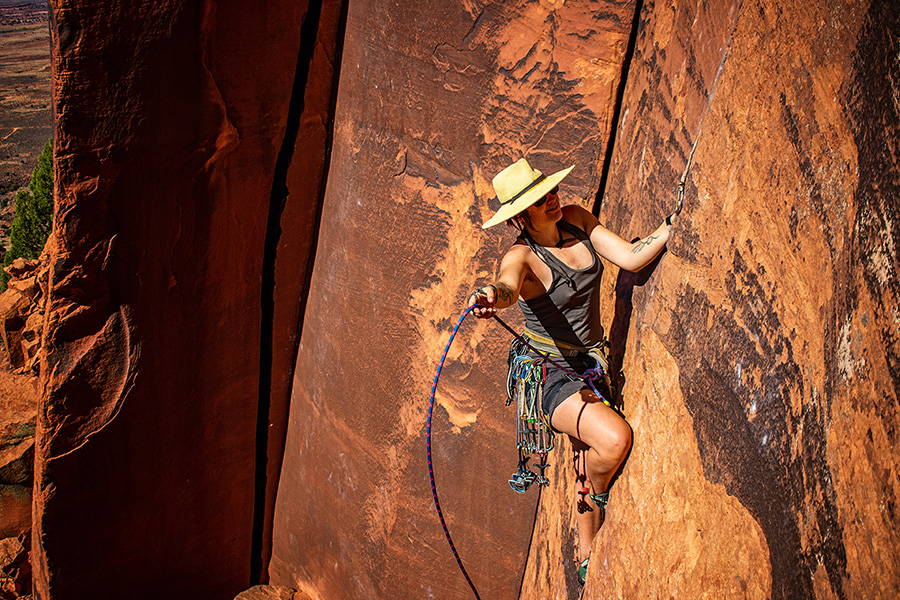 Superior water repellency
Still has a supple feel with all the dry treatments
Durable
BiColor is very obvious
Not 'ready to climb' from factory coil like other major brands
Quality: 5
Eco-Friendly: 4
Technology: 5
Durability: 4.5
I work and climb in an incredibly harsh environment. I need gear that can stand up to nature's abuses right there with me. That is why I was stoked to put Sterling's climbing rope, the Quest 9.6 mm, to the test. I tested a DryXP Bicolor 80-meter rope - but the Quest comes in many lengths, colors and treatments, with varying price points designed to fit the needs of true all-around climbers, ready for any adventure.
I took my Quest along on every climbing outing in the wonderful time that is October in the Desert Southwest. Sandstone towers, crags, 40m pitches, and everything in between -The Quest performed perfectly showing only a little wear at the pattern switch in the middle where the rope is ever so slightly thicker.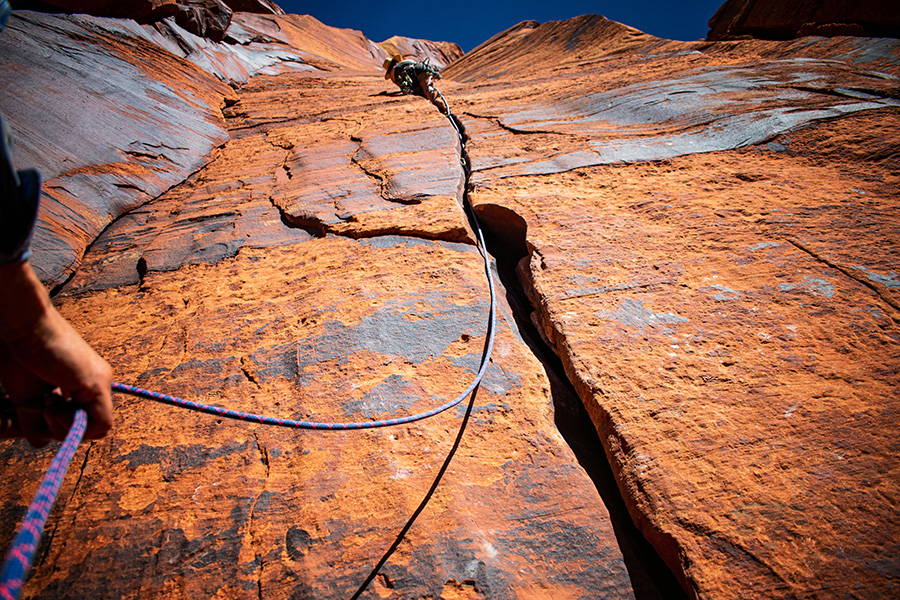 The guide service I work for has been using the predecessor to the Quest, the Velocity, for a few years now. The Velocity was able to keep up with 6 days a week of abuse from April to October and live through Ice season as well. I was excited to try the Quest as it is touted as a skinnier but equally capable version of the Velocity. My work Velocity (9.8mm) would usually puff up to about 10mm at the end of its usable life. Even if that is the case with the Quest (9.6mm), it will only puff up to a manageable 9.8mm. But that is with heavy, heavy guiding use, so I do not foresee a personal rope getting that fat. I can say that the only visible or tactile sign of wear on the Quest so far is at the middle of the rope when the color changes. It just ever so slightly sticks out at that point, therefore taking some more wear than the rest of the cord. I learned from Sterling that the bumps are caused by an "air splice" - Two yarn ends that are entangled together with a special splicing tool. (It is very worth noting that the splice point retains full strength and durability- great news since it is in the middle of your rope!) On another note, the color change at the middle is stark, which is not always the case. It is super easy to see way down the line to the change at the middle when I am pulling rope up to rappel.
Uncoiling a rope correctly is seemingly a facet of the sport that not many new climbers are taught. More than once I have seen a climber rip off the plastic around a new rope, toss it on the ground, then randomly pull a cord to find the end to try and flake it into a neat pile. It does not work. A lot of rope companies have figured out how to package a rope so you can do just that. Unfortunately, Sterling has not adopted that yet (they were probably too busy pushing the limits of dry treatments). Thus, there is a certain way to uncoil a Sterling rope. Once you unpackage your new rope. Stick one arm through the middle gap (the rope is shaped like a circle). Then your other arm must find the rope-end on top of the circle and take a few loops off the main loop. Then you must find the other end of the rope (which is on the underside of the 'circle') and pull a few loops off that way. Repeat. It is not as bad as it could be, but even with careful effort, I still ended up having to work out some resilient kinks over two climbing days. Which brings me to my next point (or tip!). Whatever length rope you end up getting, try to go to a crag that has routes that are half as tall as your rope. I used an 80m rope, so I sought out 40m routes that when I was finishing climbing, I could rappel the entire length of the rope from the middle and really work out those kinks quickly and efficiently. After rappelling off a few long routes, I had a smooth, straight rope.

Friendliness to the earth
For a company that produces infinite Nylon, Sterling does a good job trying to respect the environment as much as possible. Since their beginning they have recycled or reused old products and packing materials. Furthering that, in 2008 they started a "rope recycling" program that will take any rope and either upcycle it, as is, into something new or grind it up to be recycled into something like carpet or dog toys. Head to sterlingrope.com/recycle for more info on how to recycle your old ropes.
The amount of technology in this rope without sacrificing weight or suppleness is inspiring. Sterling made a superb rope with the DryXP Quest. It has held up beautifully in a harsh desert environment with only minimal wear at the middle.
About the Gear Tester:
Mollie Bailey started climbing in 2011 in Alabama. She migrated to Colorado shortly after to pursue the outdoor lifestyle that's overwhelmingly present in the West. She has been a Rock Climbing Guide since 2013; and loves to teach and share the world of climbing with everyone. You can now find her in Utah with her two big dogs, chasing the sun. Follow along @adventurethrulens