Sterling Canyoneering Ropes: "Better than Gold"
Sterling Canyoneering Ambassador Josh Allen
Sep 27th 2019

Sterling Canyoneering Ambassador
Josh Allen
A few years ago when I was introduced to the sport of canyoneering, I didn't pay much attention to the size or type of ropes we used. I was completely ignorant to what I was doing and how certain ropes perform better under certain conditions. I don't think I even understood that having static rope in a canyon was necessary, and now thinking back to that first weekend running canyons in Zion, my climbing friends might've had us on dynamic rope. In all honesty, all that I cared about back then was that the rope didn't fail me mid-rappel… and lucky for me, it didn't.
Needless to say I caught the canyoneering bug, started investing in my own static ropes and other essential gear, and acted like a sponge whenever seasoned canyoneers were telling me information about gear, canyons, etc. So I got my first rope. Then a second. And a third. All of which ranged from my original 9.2mm rope down to an 8.3mm rope. These ropes were stiff as can be, rough on the hands, made of 100% polyester, but performed well over time in the southern Utah sandstone. Aside from that, they were relatively cheap (just under $1/foot).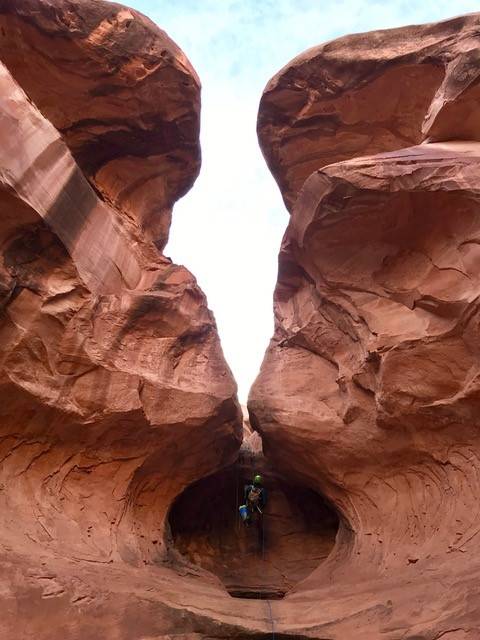 Josh running canyons in Moab
However, over time as I would descend canyons with other crews, I started hearing the name "Sterling Ropes," and me not being a climber, really had no clue if they were the new kid on the block or if they had some high quality products. I dug into their canyon line of ropes a little bit more and got familiar, and as I recalled from previous trips, I had actually felt and/or rappelled on their whole line up. I even called in to Sterling to learn more about their ropes from their reps, and eventually, I bought some for myself.
Let me break down some specs.

| ROPE | MATERIALS | PROPERTIES | WEIGHT | STRENGTH | ELONGATION |
| --- | --- | --- | --- | --- | --- |
| 9 mm HTP | 100% Polyester | High strength/low elongation. | 4.3 lb/100' | 4496 lb MBS | 1.6% at 300 lb |
| 8.5 mm CanyonPrime | 100% Polyester | Abrasion resistant, water resistant, softer feel. | 3.79 lb/100' | 3821 lb MBS | 1.65% at 300 lb |
| 9.5 mm CanyonTech | Nylon core, Technora sheath | Abrasion resistant, rugged/low stretch and high strength. | 4.23 lb/100' | 6744 lb MBS | 3.9% at 300 lb |
| 9 mm C-IV | Technora sheath, polypropylene core | Ideal for wet canyons. Superior abrasion resistance, low water absorption, low stretch. | 3.15 lb/100' | 4653 lb MBS | 2.0% at 300 lb |
| 8 mm CanyonLux | Technora/poly blend sheath, dual polypropylene core surrounded by a layer of strong Spectra | Perfect balance of water/abrasion resistance, best handling rope (supple) and packable. | 2.77 lb/100' | 5440 lb MBS | 3.3% at 300 lb |
Sterling carries many more ropes than those listed above, like some burly 11mm (will last you a lifetime) kind of ropes. But that sort of heavy rope is never fun to pack around in a canyon, so I only listed the ropes above that I have gone canyoneering with. So I eventually decided to add the HTP and CanyonLux to my rope arsenal and I was curious how the low and high end Sterling canyon ropes would perform in Utah's desert.
The HTP, an entry level Sterling static rope if you will, enticed me by it's low price point (roughly .90¢/foot), but also because it was similar to the polyester ropes I had been using…only the HTP felt better in my hands and wasn't as stiff as what I was accustomed to. The thicker diameter meant for me that it would last longer than my 8.3mm ropes from before, but it also wouldn't be as heavy and hard to pack as the 9.2mm I was using either. For me it was a nice middle ground, and I found that the rope performed really well over time and didn't show major wear after 10+ canyons.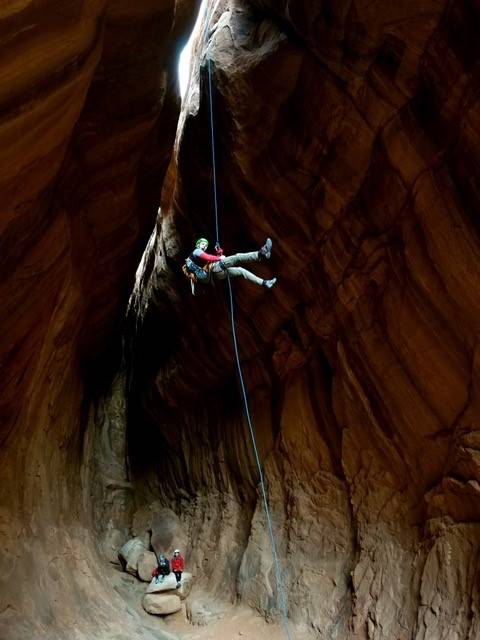 Enjoying the ride on HTP 9.0 mm
Now the rope I was most curious about was the CanyonLux, which carried a much steeper sticker price than the HTP (and any other rope I had used), but it also had characteristics that I had never seen in a rope. It is an extremely soft/supple rope, easy to handle and smooth as butter on rappels. I got so used to using gloves with my polyester ropes, but with the Lux I loved the feel of going gloveless (and thanks to my ATS rappel device I can set different friction settings to control the speed of my descent). The Technora sheath didn't allow the rope to get as hot in my hand during a long rappel, and the wear on my device seemed to be much more minimal. I instantly fell in love with how the Lux performed, but I didn't quite know how long a supple 8.0mm rope would last. Time would only tell.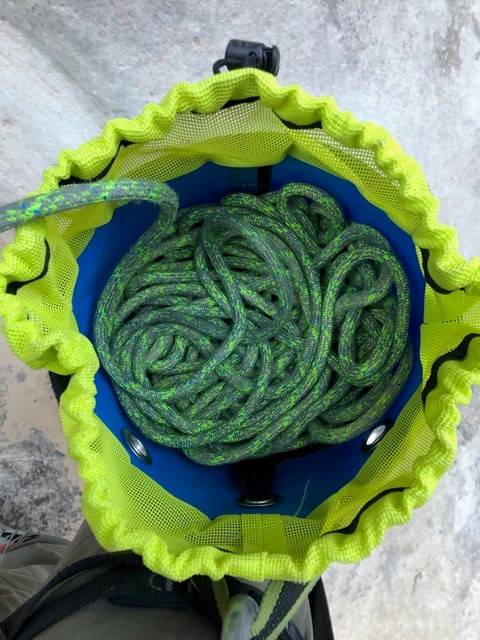 A peek at some nicely-packed CanyonLux rope inside the Blitz Bag
About a month ago I started using the CanyonLux, which under normal conditions isn't long enough to truly test a rope. However, in two full weekends we put the rope through about 6 descents (in Moab and Zion), with group sizes ranging from 4-8 people. Granary Canyon was our first crack at it, and I was super cautious and mindful of keeping it as pretty as it originally was coming out of my Sterling Blitz Bag. The friends we brought along were used to rappelling with an ATC, but with a rope this skinny we suggested using a figure 8 to help with the friction on their device. This was the first time for all of us in Granary, and we did the full route (10+ rappels) ending at the Colorado River with a 200'er. The route was amazing, potholes were frozen over, and it was an incredible day. The rope performed incredibly, didn't really hold on to any sand, stayed dry when it came in contact with snow, and left minimal wear on our devices. The suppleness of the rope really created ideal friction with our devices and it felt great in the hands (gloveless). Everyone commented on how nervous they were at first to use such a flimsy/skinny rope, but by the end they loved it.
We descended a few more canyons that weekend, mostly playing around with ghosting techniques and using a fiddlestick as often as possible. Although the Lux has high abrasion resistance, using a biner block (with a clove hitch) proved to cause some wear on the rope… but nothing out of the ordinary (just your normal wear and tear). So in our subsequent drops, when pulls would cause a lot of friction on the rope, we just made sure to fiddle it and keep the impact on the rope and the sandstone at a minimum. This sort of proper rigging and rope care will help preserve your gear and also expand your opportunities of canyons you can descend.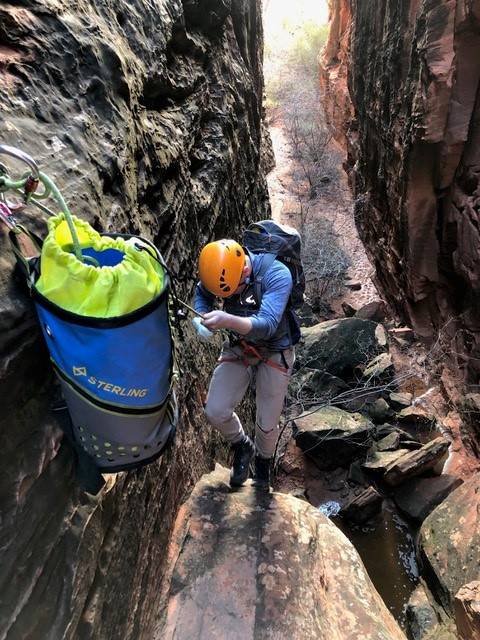 Rappelling down some rocky terrain with the CanyonLux
The following weekend we had an agenda full of canyons outside of Zion National Park, and once again we got after it. Friday I took a group of beginners (my family), including my 74-year-old mother down their first canyon. Eight of us went out and explored a new route, dropping 4-5x with raps up to 120'. Needless to say, technique and proper rope care wasn't instilled in this group, but we did our best on the fly and I gave suggestions and reminders to help people to limit their side to side movement while on rappel (especially after the rope was set). My nephews took a liking to helping bag and manage the rope, and the experience was incredible.
Saturday was meant for a group of friends, and our original plan was deterred by a raging Virgin River, but our backup plan proved to be pretty epic as well. We dropped 3 routes that day, 15+ rappels, and got to really test out the water resistance component of the Lux. I'm still blown away that a rope like this exists! As we were in and out of trickles/pools, the rope maintained the same performance and feel that it had when it was dry. Sunday and Monday we got out in the snowstorms surrounding the park, and took the rope through full on whiteout conditions. We literally had to clear 12'+ of snow from the sandstone to be able to access our anchors. The days were incredible and unlike any other in southern Utah, and because of the suppleness and water resistance of the rope, it didn't freeze up and get stiff like some polyester ropes we were used to.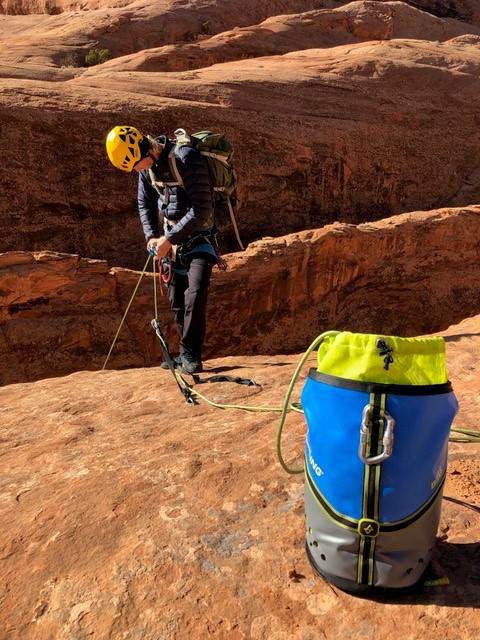 Josh setting up a rappel using the CanyonLux and Blitz Canyon Bag
Sterling ropes, for me, are the answer to the wide range of canyon scenarios out there. From light and packable, to water resistant and durable, there is a perfect Sterling rope for every canyon. I've since added a C-IV to my collection of ropes and just took it out last weekend. I am anxious to experience the extended durability that a thicker rope will have in the rough conditions that we canyoneers face.
To round out your Sterling canyon gear, be sure to check out the Sterling ATS descender for multiple friction settings to ensure a controlled descent as well as their Blitz Bag, the perfect bag for wet and dry canyons alike. The Blitz Bag is tough enough to take a beating through endless canyons, loaded with features like a wide opening up top for quick deployment of rope and rapid repacking, removable floatation pieces to allow for more space for your dry canyons, and a sturdy base that will allow the bag to stand on it's own. Believe it or not, this bag will easily hold 300' of the CanyonLux, 250' of the CanyonPrime, or 220' of the C-IV/CanyonTech. Hands down it's been my bag of choice.
Josh Allen (@rawtrails on Instagram) is a Sterling Ambassador, Canyoneering Guide and founder of RAWtrails, an adventure guide service.
Shop Sterling Canyoneering Equipment: