Sterling Rope Takes New Shapes in the Form of Art
jeimi.woffinden@zaneray.com BigCommerce
Jun 1st 2017

Pamela Moulton
Franco-American artist
Pamela Moulton, a Franco-American artist currently based out of Portland, Maine weaves Sterling rope and fibers into her art installations. Her latest work, called the Interactive Map of Emotions (pictured), was featured at a 1-day garden intervention at the Ogunquit Museum of Art in Ogunquit, Maine. Suspended in the Ogunquit Museum of American Art's garden, the artwork is a large scale woven diagram representing the 5 Universal Continents of Emotion that invites visitors to become participants by playing an artist's game dealing with emotions. This piece was inspired by an article she read in the NY Times about the online Atlas of Emotions that was created by Paul Ekman, a world renown psychologist on the emotions.
The relationship with Sterling began two summers ago when Pamela was conducting the Upcycled Art Activity at Greenfest in Portland, ME. A friend of hers, Celeste Bard from Arcadia Design, had done work for Sterling as an interior designer, and she had some rope fibers for collaboration on a project. Both she and Pamela had won "Force of Nature" Awards from Eco Maine for the upcycling of recycled materials.
Map of Emotions
Pamela Moulton
"I was instantly drawn to the various textures of your rope and the colors are gorgeous!" Says Moulton. "I used the silky blue strands to make large bunches of tears, by knotting them together. I used the rope sheaths, for weaving, and the shiny bright yellow fibers to make little poofs of color, like star bursts. I was invited to visit the factory and was allowed to take materials from your large cardboard bins containing a range of fibers. I used everything!"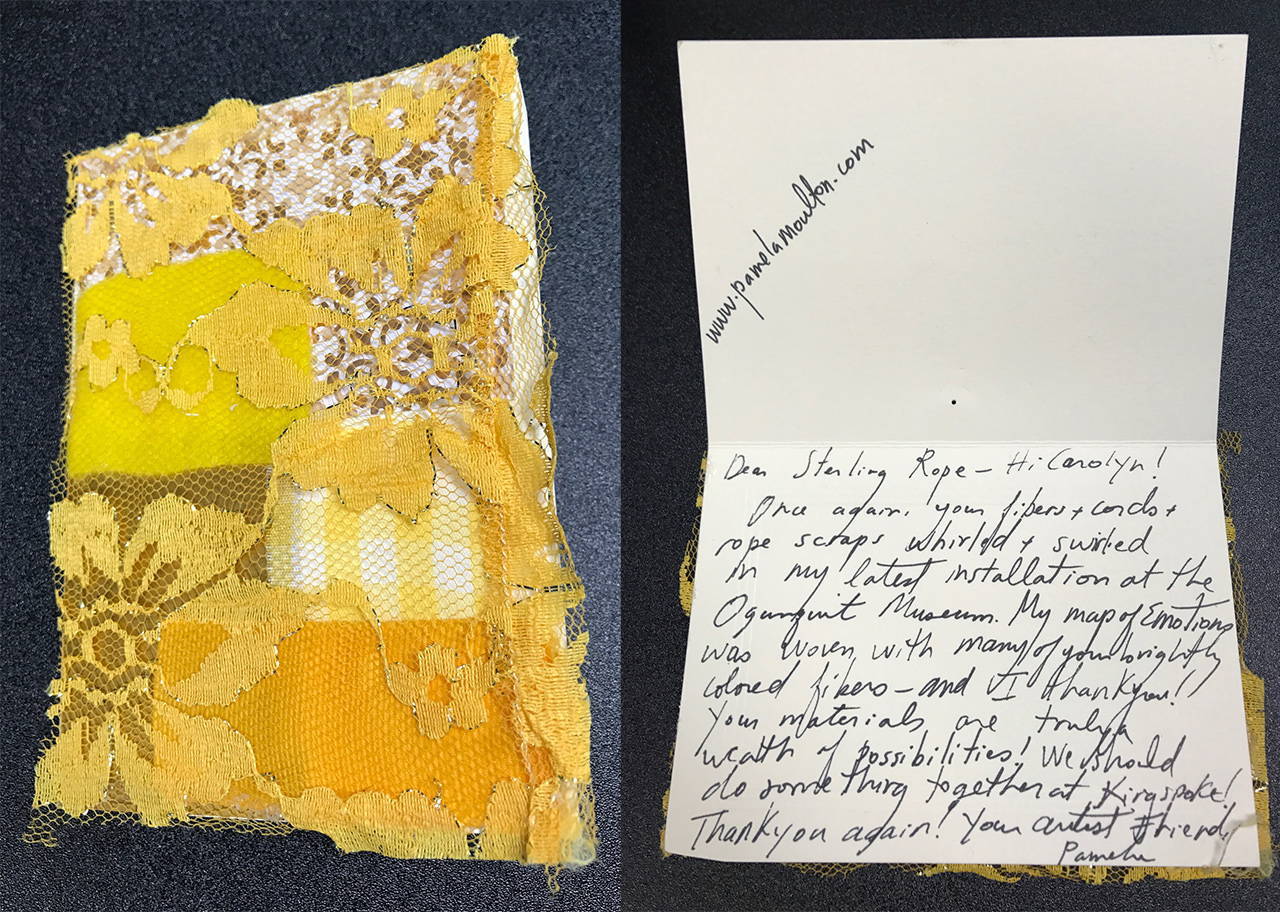 Thank You Lores
Pamela Moulton
Pamela is conducting a workshop with the public at the Portland Museum of Art this July and Sterling rope will be among the materials used. The dates are Saturday. July 17th at 11- 2:30pm and July 23rd from 5-8:30pm. Join Pamela and explore new ways of recycling Sterling rope and fibers.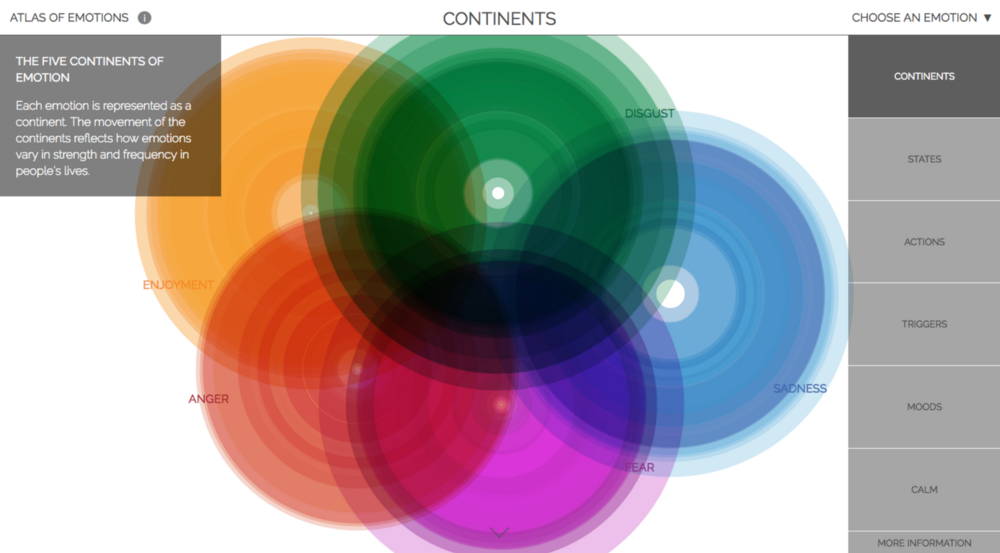 About The Interactive Map of Emotions
These five Universal Continents of Emotion were woven in great circular colored zones with a multitude of richly textured materials ranging from rope fibers from Sterling Rope to shredded raincoats to Christmas garland. The Continents were colored accordingly: Anger = red, Enjoyment = yellow, Sadness = blue, Digust = green, and Fear = pink. Fisherman's netting served as the base for this suspended sculpture. Surrounding the Continents were many yellow circles containing embroidered words representing subcategories or States of Emotion. I purposely wove yellow circles to spread 'enjoyment'. Anger for example, has many related states of emotion ranging from 'annoyance', a low-intensity state of emotion, to more extreme states like full blown rage.
Hoping to facilitate a different kind of art experience, Pamela invited visitors to play an artist's game that explored relationships, emotions, and materials. It was appropriate for all ages and was a visually and tactile-rich experience for adults and even infants. Visitors rolled giant dice and randomly landed on one of the 5 Universal Continents of Emotion. They then selected a colored piece of paper and wrote what triggered that emotion. What made them angry? Sad? Fearful? They tied it onto the textile sculpture with yarn, connecting it to appropriate states of emotion, mapping out their feelings. The result was a richly woven interactive suspended sculpture that engages audiences of all ages while helping us contemplate the fluidity of our emotions.
For more information on Pamela Moulton and her upcoming exhibitions, please visit www.pamelamoulton.com.
To learn more about Sterling's upcycling and recycling opportunities, please call Erin Weimer, PR and Content Manager at 1-800-788-7673.