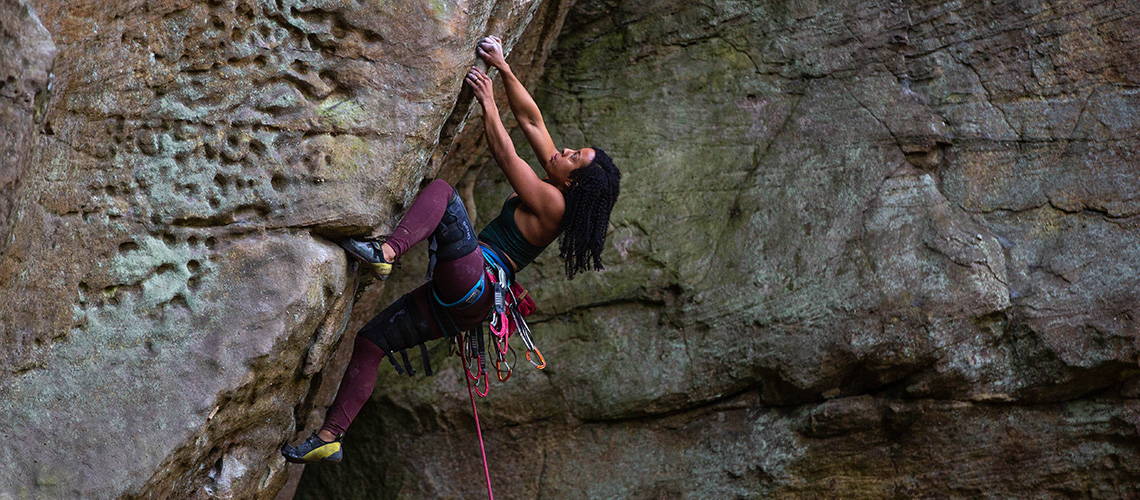 Photo Credit
Matt Burbach @mattburbach
Growing up only 30 minutes from the Gunks in New York, Genevive spent most of her life unaware that the climbing destination was so close. She loved being outside, but her family wasn't outdoorsy. In college, a friend took her night climbing at the Gunks, and her world was forever changed. She progressed quickly, cutting her teeth on the heady trad leads in the Gunks that make most other areas seem easy. After moving to Rumney, New Hampshire, Genevive started pushing her limits with sport climbing and climbing began to take over life. Driving her Hyundai Tiburon out to Joshua Tree in California, Genevive soon found that call of life on the road too powerful to resist. Sleeping in a two-door sports car wasn't going to cut it, and she upgraded to the Hotelement (Honda Element) and joined a roving band of dirtbag climbers making their way from climbing destination to destination. From that moment, Genevive realized she had an opportunity to experience life differently from conventional norms.
Besides traveling through the states, Genevive spent a great deal of time in Southeast Asia and Mexico experiencing different cultures and styles of climbing. After so much time climbing drippy limestone tufas, she discovered her passion for steep, thuggy sport routes.
In 2018, life on the road brought her to Denver, CO, where she met her fiancé and tried to settle down - which lasted about 3 months. Instead of being settled, her fiancé started joining her on the road and eventually they built out a Promaster cargo van, venturing out on the road in style.
The same year Genevive moved to Colorado, she began pushing her limits and ticked off her first 13 (Bigger Dog, 13b), with a handful to follow. At the 24 hour climbing competition at Horseshoe Canyon Ranch, 24 Hours of Horseshoe Hell, Genevive placed second in the female category for the most number of pitches (177 pitches). In the fall of 2018, Genevive was proud to take part in the first all female cohort for the AMGA Single Pitch Instructor Course, and now works with Space Below Your Feet, a female-owned guiding company, as a certified Single Pitch Instructor guiding international retreats and teaching climbing clinics around the country. She's also currently working towards the pursuit of her Rock Guide to further her career in the outdoor industry. By helping people acquire skills and competence to safely enjoy the outdoors, her mission is to increase equity and access for underrepresented groups within outdoor spaces.