Kevin Lindlau Sends "A Line Above the Sky" D15
...
Aug 5th 2022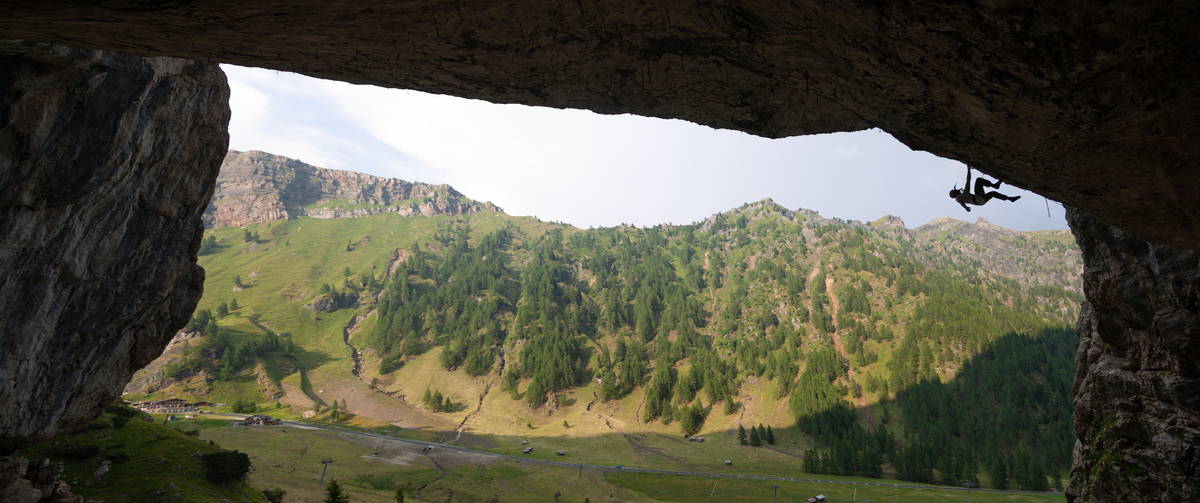 Photo taken by Joe Stylos
Congratulations to Sterling Athlete Kevin Lindlau on sending his long-term project "A Line Above the Sky" D15 in the Italian Dolomites. This is significant as the climb has seen relatively few ascents over the years (somewhere in the number of roughly 15 accents give or take), and this marks the third American ascent of the route, as well as only the third confirmed D15 ascent by an American. We asked Kevin to tell us a little more about the about the project.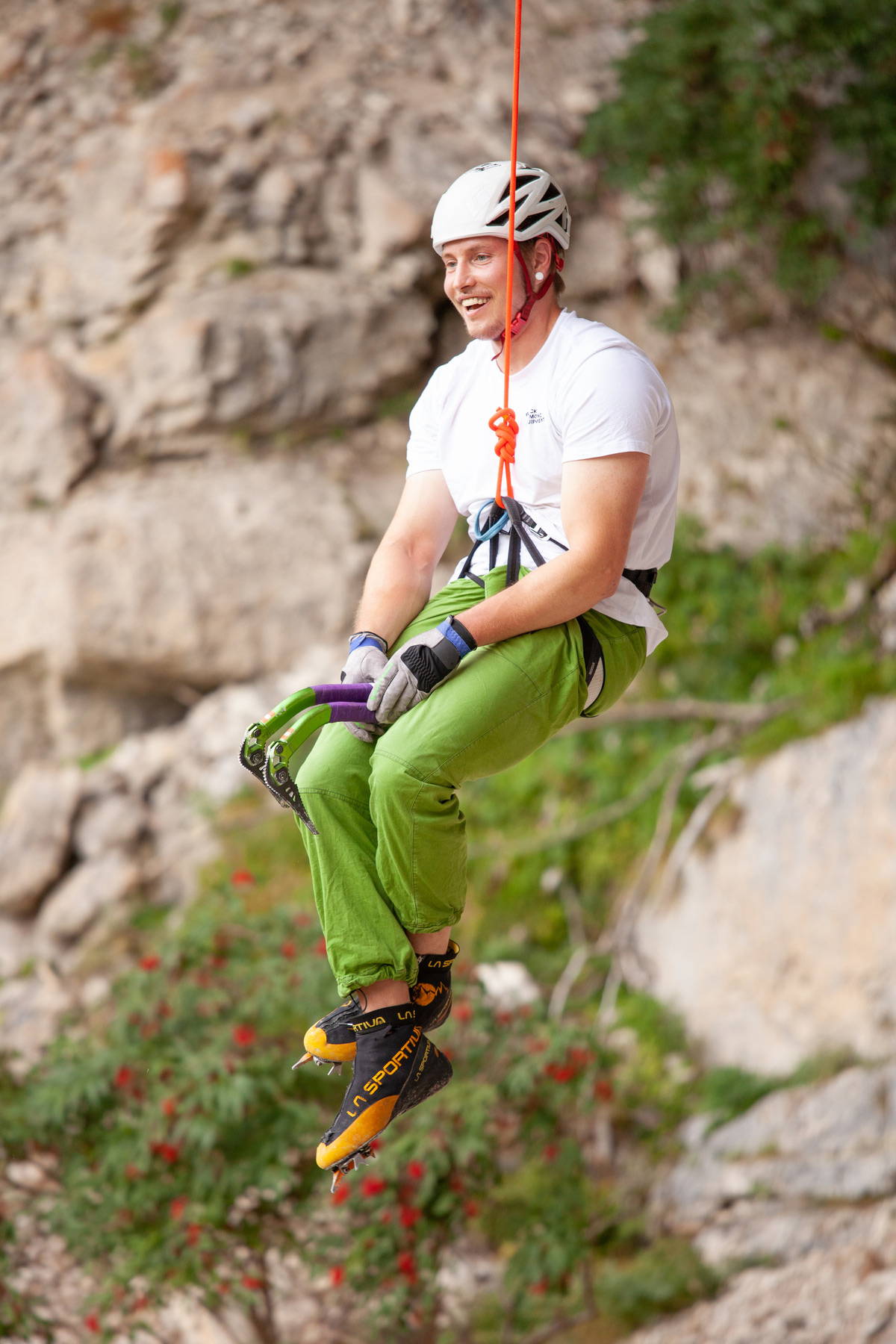 A Line Above the Sky D15 Kevin Lindlau #11
Photo taken by Joe Stylos
Tell us a little more about the route. Where is it and how did it come about?
The route is located above Malga Ciapela on the Marmolada peak in the Italian Dolomites in a cave called "Tomorrow's World". "A Line Above the Sky" was the first climb of its grade (D15) in the world. It became a groundbreaking test piece route for the sport of Ice Climbing and Mixed Climbing that was put up by Tom Ballard between 2015/2016. The line is still one of the hardest Drytooling routes in the world and is still used as the benchmark for the grade in determining if other routes are equivalent to D15 or not.
How did you come across "A Line Above the Sky"?
I first stumbled across this route years ago when I was getting into the sport. I was watching mixed climbing videos on youtube and happened to come across a film featuring Tom Ballard showcasing his amazing climb across the "Tomorrows World" cave. I was immediately in awe that something like this was even humanly possible and was instantly intrigued. A couple years later while competing on the UIAA Ice Climbing World Cup tour, I got the opportunity to go climb with Tom and some friends at his cave, and it was even more awe striking and inspiring to watch Tom dance across this roof in person. At the time all of these routes were well above my climbing level, but that fueled my desire to one day come back and attempt these majestic roof lines.
My dream of one day climbing "A Line Above the Sky '' has guided my training and climbing since then to always be working towards the goal of one day sending this route! I've dedicated years of time and energy into training for this climb, even by putting up a new line in Hyalite canyon called "Groggy on the Bering Strait" D13+ to use as a training route for the "Tomorrow's World" cave. After all of this time over the years I've invested into always working towards this goal, it feels quite surreal to have finally achieved my dream and gotten to experience one of Tom's amazing routes!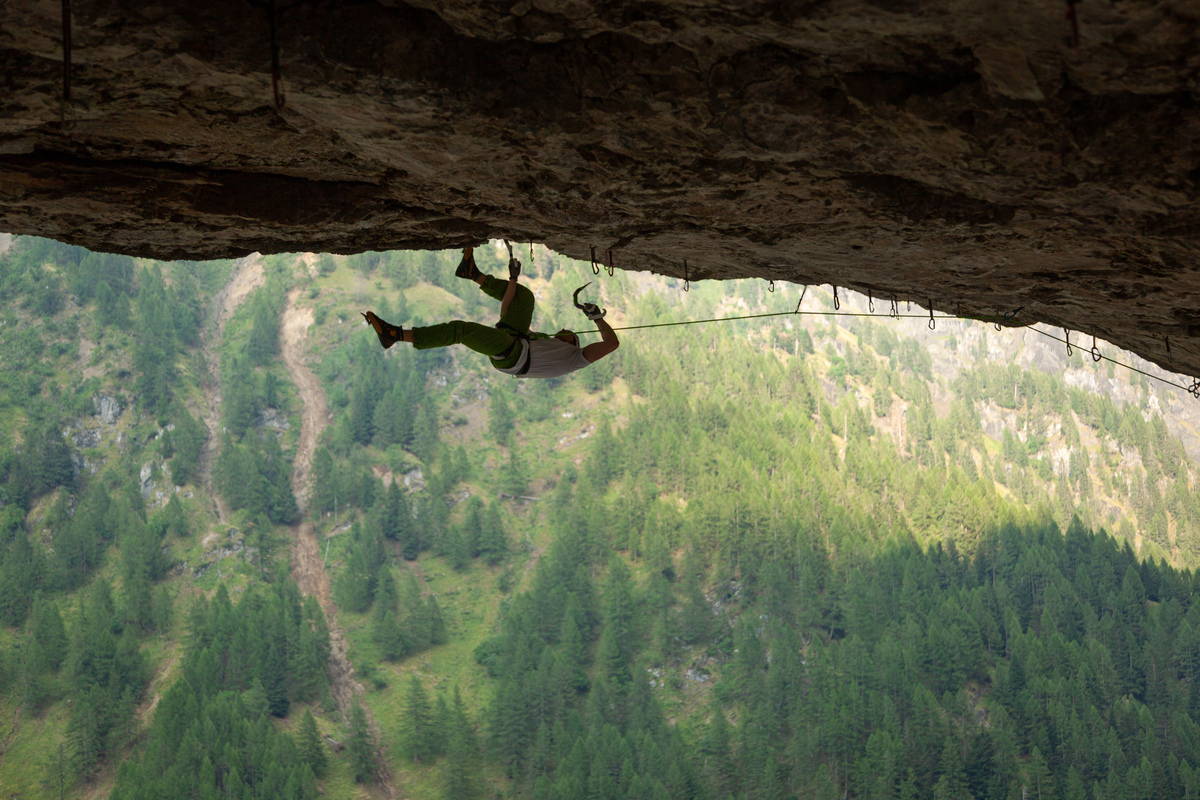 A Line Above the Sky D15 Kevin Lindlau #4
Photo taken by Joe Stylos
Tell us a little about the climb itself — what makes it so difficult or sets it apart?
The climb itself is pretty incredible! Just looking at it from below you are immediately in awe of the sure magnitude of climbing it holds. The route itself is nearly 50m long, covering over 40m of pure horizontal roof, and using 27 quickdraws before reaching the anchor. To begin the route you must first climb a D12 that is quite steep to gain access to the start of the roof. From there you have roughly 42m of pure roof climbing to clip the anchor, climbing many cruxes along the way! Many of the moves on the route are quite large, requiring a lot of power and dynamic movement to be able to complete them, making it quite difficult to maneuver across the vast sea of limestone above you. It forces you to have to switch energy systems often transitioning from endurance to power endurance throughout the entirety of the route making it a true test piece line!
How does projecting for drytooling differ to projecting any other type of climbing?
Luckily, the methods for projecting a drytooling route are extremely similar if not exactly the same as projecting a route for rock climbing. For this route I needed to do a bit of reconnaissance work as I had never been on the route before. For the first two days I spent time going from quickdraw to quickdraw locating holds and moves that would be considered cruxes on the route. I would try each move in isolation and take key notes of features of the rock to use as reminders so when I approached these moves on my redpoint attempts I could use them as a mental que and know exactly what to do in the moment making it much more efficient to move through quickly. After this I began to do climbing link ups of the route which is essentially breaking the route up into different sectors and climbing them individually with breaks between. The purpose of this is to get a gauge for how the moves will feel when you are fatigued on route climbing the whole thing continuously. Eventually you try to remove the amount of "takes" needed to complete the route, eventually leading you to climbing the route in one continuous push! My first link up day I broke the route up into four parts taking time to work on the cruxes of the route. My second link up I was able to do with only one "take". At this point I knew I was ready to start to give the route solid red point burns. On my first and second attempts of the route I got to the fourth last move of the route but was having issues with one of the moves. I decided instead of continuing to just hope to figure it out on the fly, to go back up the next day for my warm up and project the move. I repeated the move between 12-15 times to get it dialed in, and a few hours later in my next attempt, I was able to move through the crux fairly easily and finish the route!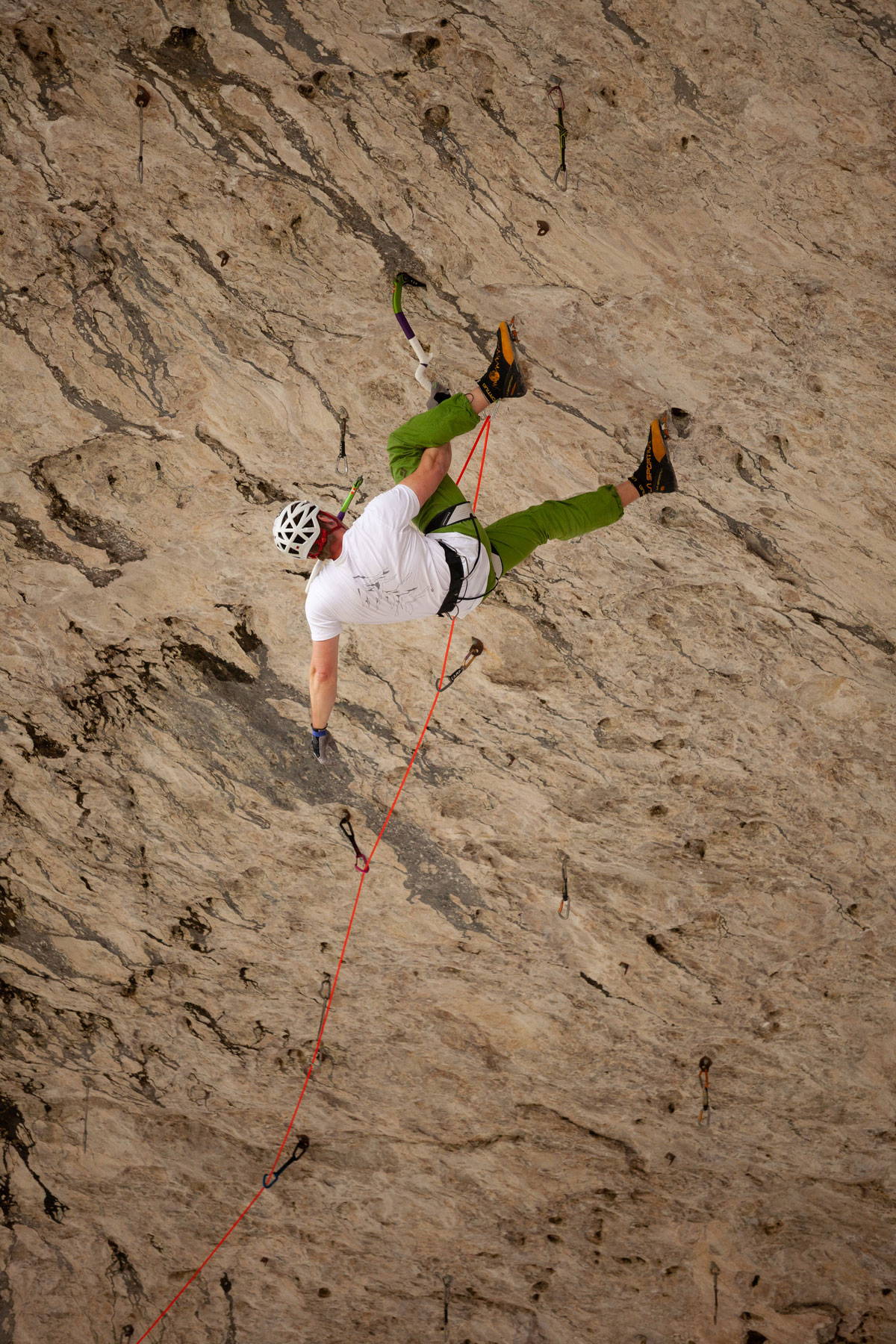 A Line Above the Sky D15 Kevin Lindlau #7
Photo taken by Joe Stylos
How long did it take you to train for this project?
Climbing "A Line Above the Sky" has been a dream of mine since I got into the sport! Over all of my years of training this route has been at the back of my mind playing a key role in how I trained in hopes to one day attempt to climb and finish this route. Years of preparing to climb these big roofs has played a big role in the base I needed to complete this climb as it took me nearly 22 min to complete the horizontal roof spanning roughly 42m to reach the anchor. I began specific training for this trip roughly 6 months prior to leaving for Italy. My long time coach and mentor, Marcus Garcia, helped me put together a training regiment to prepare for the climb. In 2019 I had come to Italy to attempt some other routes in the cave which gave us a good idea of what worked for training and what we needed to change specifically to climb this route. I spent roughly 6 months training through phases working on my base fitness, improving strength and maximizing endurance to be able to climb at my limit for long periods of time on these massive roofs. A large portion of my training took place at a gym called "The Mountain Project" in Bozeman, MT where I had built a small bouldering cave dedicated to drytooling a few years prior. The wall has a 4 foot x 15 foot roof section which is where I have spent countless hours climbing loops on for months to make my training as specific as possible to what we would encounter in Italy!
You sent the route using the new Nano 8.9 XEROS — how did you like it?
The Nano 8.9 was great! I ended up taking the neon orange version with, since the cave is completely shaded, but it climbed amazingly! I'm so glad I had it for the send, It really reduced the rope drag and amount of weight I had to carry through the roof, especially towards the end of the route where you are pretty pumped after climbing 42m of horizontal roof! haha. It also seemed to slide through the draws much smoother than the Velocity I was using to preview the route. Ive been using the new XEROS Nano in Bozeman and it is by far my favorite rope! I also brought a Velocity and a Quest with me on the trip and am using them for the redpoint burns and checking out the routes. All the ropes have been great here and I am super grateful to have brought the Velocity. The limestone is super sharp in the roof and it is proving to be a workhorse of a rope up there!
What advice do you have for folks looking to get more involved in drytooling?
Drytooling is a blast! As the sport of Ice Climbing and Mixed Climbing continue to grow in North America, more and more drytooling training facilities and drytooling crags continue to emerge. I would recommend to anyone looking to get more involved in the sport to join a Mixed or Drytooling clinic at a local ice festival to learn from the pros and jumpstart your knowledge base as it will make it much more enjoyable when you go out on your own to try some dry routes! This is also a great way to learn more of the ethics associated with the sport from members of the community in your area as to not cause any issues with other crags that may not allow drytooling. As always just remember to have fun and be patient as it is a skill sport that given the time and energy to learn, everyone can excel at!
What advice do you have for folks looking to get more involved in drytooling?
Now that I have finished my goal of climbing "A Line Above the Sky '' I plan to try some more of Tom's routes here in the "Tomorrow's World '' cave as well as some other classic test piece drytool lines around Europe. There are many new routes being established across North America and Europe and I would love to attempt as many of them as I can over the coming seasons! Along with this I plan to continue to compete on the UIAA Ice Climbing World Cup circuit and hopefully begin coaching to share my passion for the sport to the next generation of crushers out there!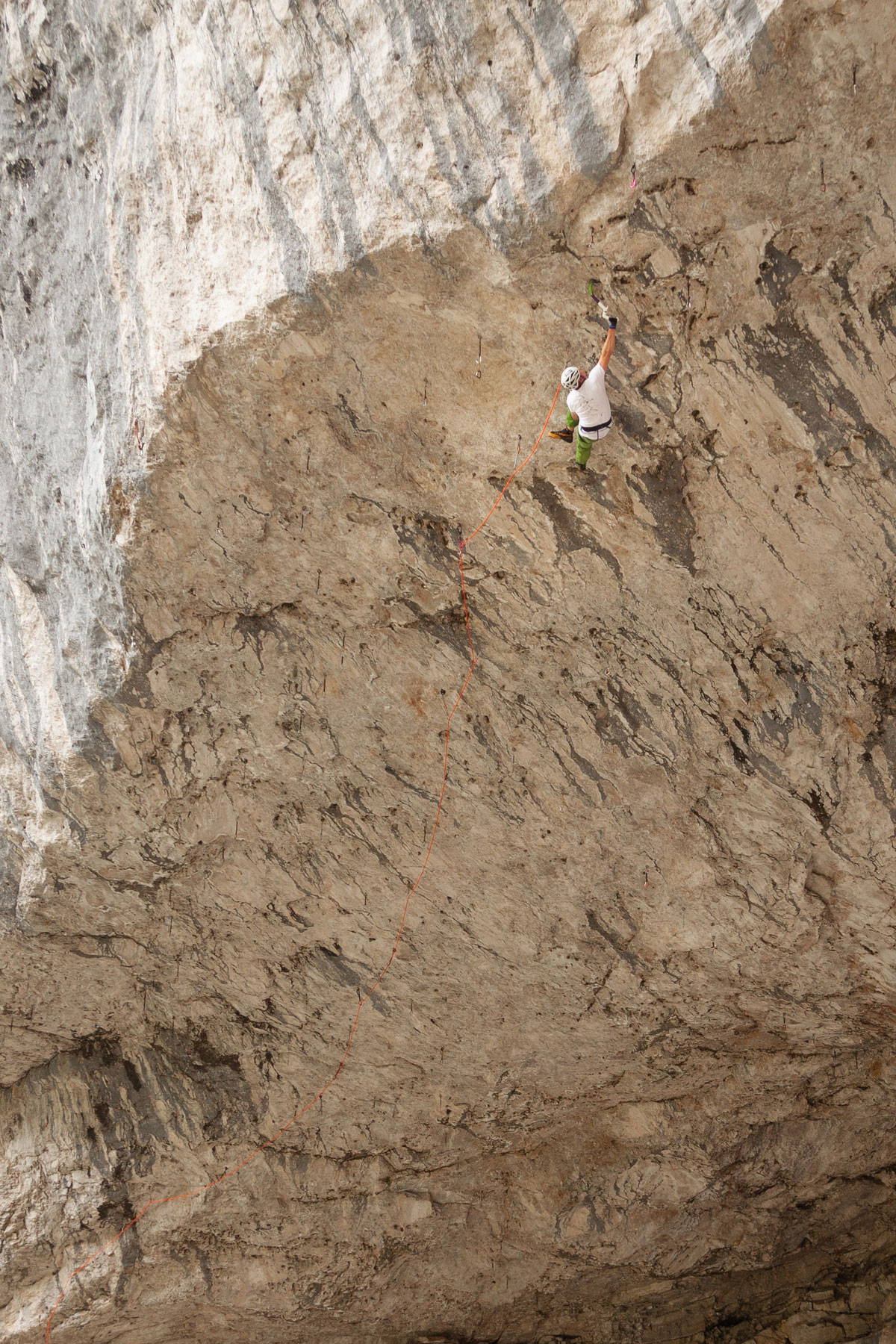 A Line Above the Sky D15 Kevin Lindlau #9
Photo taken by Joe Stylos