Marcy Carpenter: Conquering the Canopy
My career in arboriculture happened completely by mistake. I was 20 years old and had just returned home to my parents' house after an extended rock/mountaineering trip in the Wind River Range, WY. My mom, who is a teacher, encouraged me to put my energies into figuring out a career track. My mom and I are very close and I very much respect her opinion and thought process. So I went with that. I decided because of my passion for the outdoors and nature, I will become a park ranger. I'll get to work outdoors, specifically in parks with good cliffs to climb. At the time park management was a popular degree, so I found a cool program at a college up in Ontario. On the way up there (my mom came along for the visit) she mentioned stopping at UMASS Amherst. She suggested we swing in and check it out. I met with the woman who was the recruiter for the Stockbridge School of Agriculture at UMass. I explained what I was looking for as I career track and she says, "Yes, yes, we have a program like that." Well, that was a bit of an exaggeration- as she was referring to the Arboriculture program. It should also be said that as an active person I didn't have the best grades through my schooling. UMass would accept me into the program so I went with it.
I went to the orientation and a tall, kinda handsome guy sat there talking with us (a small group in the Arbor program). He asked the group who has always wanted to be an Arborist. An Arborist????? Everyone raised their hands. Everyone, except me. I am going to be a Park Ranger. Most of my classmates had worked in small family tree businesses. I was working as a kayak guide. Well, little did I know at the time this student, this tree guy going through our orientation would be my future husband.
My life changed as the weeks went on. I became absorbed in the soil science, botany tree ID, chainsaw work and of course the climbing. I piece-mealed together some tree climbing gear so I could practice on my own. Every day I climbed. I would footlock 200' every day to build the strength I would need specifically to be the best tree climber I could be.
I began climbing in competitions and was winning!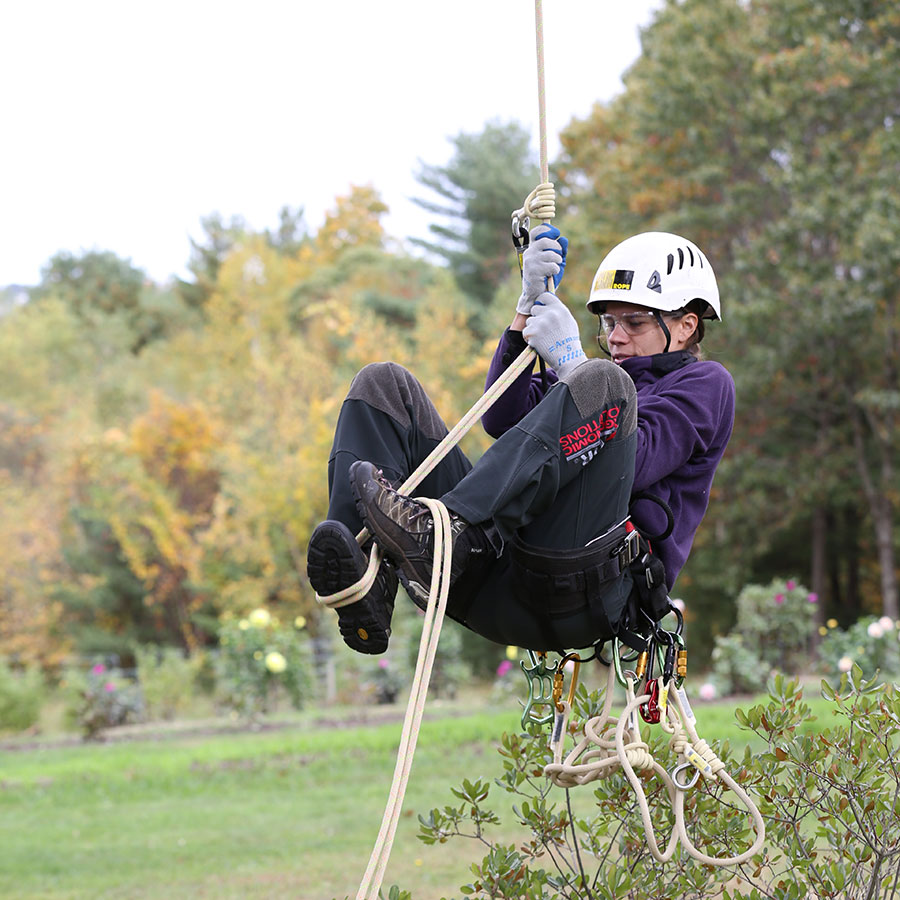 2 years later I graduated with my degree in Arboriculture and Park Management. The 8 other students in our program all had jobs lined up with tree companies. I was so pumped to start as a production climber.
Little did I know at the time this wasn't going to be so easy for me. I was sending my resume out everywhere. Everyone told me they weren't hiring climbers, but I knew they were. What was going on???
Finally in one interview, this person sat and told me they were looking for a PHC tech but not climbers. This was getting ridiculous. I couldn't take the rejection anymore. I asked "What the hell, I know you need climbers." This business owner said, "Listen, no one is going to hire you (a woman) as a climber." I was heartbroken. I had a choice to make. I could either listen to the jerk or I could use this as motivation.
I had my dad take pictures of me climbing and I sent a photo out with my resume. "See? Look! I can climb!" I eventually landed a climber position with a wonderful company and it began!
I would go on to compete in 5 World Tree Climbing Competitions, be a part of an organization that helps encourage women to climb trees called The Women's Tree Climbing Workshops and now I own and operate my own business Arbor One Inc. With perseverance and focus you can achieve great things! Now onto a new chapter….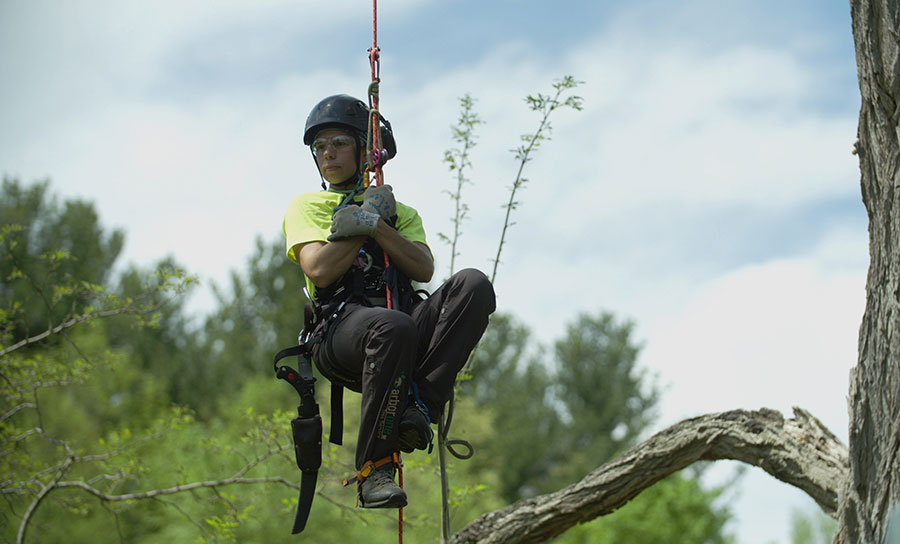 Shop Arbor Climbing Lines:
---
---