We have been a sustainable rope company since day one and today we're thrilled that we're able to join 300+ other Climate Neutral Certified brands by going through the complete Climate Neutral audit and becoming Climate Neutral Certified.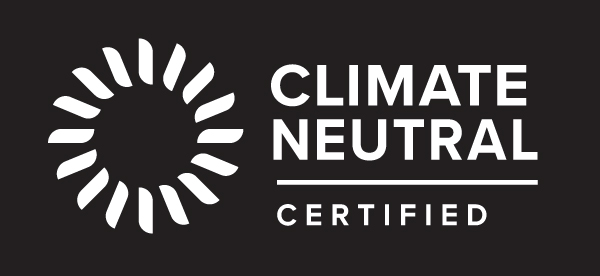 What is Climate Neutral?
Climate Neutral is a nonprofit organization working with brands and consumers to decrease global greenhouse gas emissions. The label, Climate Neutral Certified, is the universal standard in carbon neutrality. It is earned by brands who measure, offset, and reduce their entire carbon footprint, making it easy for consumers to shop with concern for the global climate.
How did we get here?
We have partnered with Climate Neutral to do our share to eliminate carbon emissions. This past spring, we embarked on a months-long process to measure, offset and reduce last year's carbon emissions. Here's what we did:
Measure:
We measured our 2020 carbon footprint at 2,957 tonnes. We took a look at all of the emissions created in Scopes 1, 2 and 3, which includes emissions created from making and delivering our products- including our supply chain emissions, employee commuting, business travel, and utility bills.
Offset:
We then "zeroed-out" these emissions by purchasing 2,957 verified carbon credits to offset our entire footprint. These credits direct investment into critical carbon sequestration projects such as forest conservation, renewable energy, and carbon capture technologies.
Reduce:
Finally, we committed to a reduction action plan to cut future emissions within a 12-24 month timeline and will be reporting progress on these plans annually.
Our plans:
Purchase renewable energy from Maine Green Power to match 75,000 kilowatt hours every month with renewable energy produced in Maine.
We will reduce our energy usage by updating our manufacturing operations (streamlining operations) to reduce up to 136 kWhs per day.
What does this mean for Sterling?
This process will be repeated annually in order to re-certify. Our company and our customers have a strong connection to the outdoors. Becoming Carbon Neutral Certified was an important step towards doing our part to protect the Earth.
"We took a hard look at where we produce emissions. As a life-safety rope manufacturer, it's no secret we use and produce plastic products. By becoming Climate Neutral Certified, our consumers and employees can quickly see the steps we are taking to minimize our environmental footprint and to reduce the greenhouse gasses we produce through the manufacturing and distribution of our products," remarked Tripp Wyckoff, CEO of Vertical Supply Group.
Starting today, our products will bear the Climate Neutral Certified label. This label is a badge for all that we've outlined above. We are proud to be in good company with all of Climate Neutral's Certified brands. We believe in Climate Neutral's mission of taking action against climate change now. Let's work together to tackle climate change faster.
To learn more about Climate Neutral and see our profile page, visit climateneutral.org.
Learn more about Sterling's Sustainability Initiatives:

---
---