Q&A With Joe Kinder: Bolting New Routes
How many routes have you developed in your lifetime?
That's seriously a great question. I'd say I have been bolting for about 10 years now and in the beginning I was obsessed with it. Now I am a little more methodical and choosey. I think in all over 100? 200? I have routes ALL over the place and some I've never even tried. I have bolted routes with other people as well and I don't know if that counts as only mine. Let's just say I have put up A LOT of routes. Probably more than most people I know.

What do you need (for tools) to develop a new route?
You need a hammer drill, drill bit, expansion bolts, hammer, wrench, goggles (vital), carabiners, a static rope, chain reactor for jummar, gri gri, harness, chalk, brushes, headphones for listening to music... I might be forgetting things, but that should cover it. I always seem to forget something in the car or on the ground. HA! One missing item and you are screwed so plan wisely.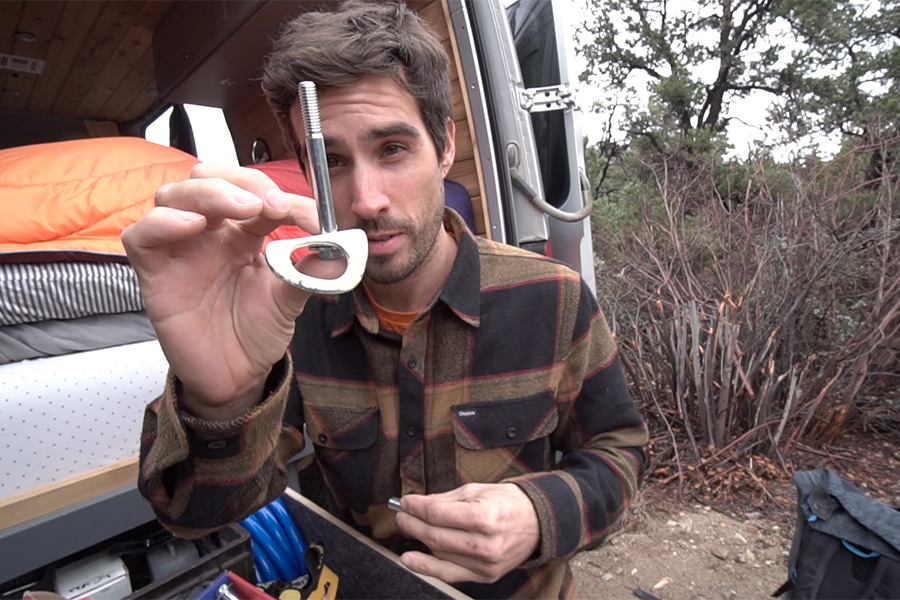 Does it take a certain eye to see new routes? How do you determine the line from a blank face of rock? The difficulty? The moves?
Absolutely. I have friends that see lines I don't and vice versa. Seeing a line to climb is very personal. Sometimes it's totally obvious and other times you need to rap the wall to get a closer look. When it looks like there are holds there usually are, but other times it's deceiving and there's nothing. It takes the initial work to get a bird's eye view of what's there. The ideal situation is seeing features from the ground and having it be an easy endeavor to bolt the climb. Other times it's a gamble and you may bolt a line with a blank spot that's impossible to climb.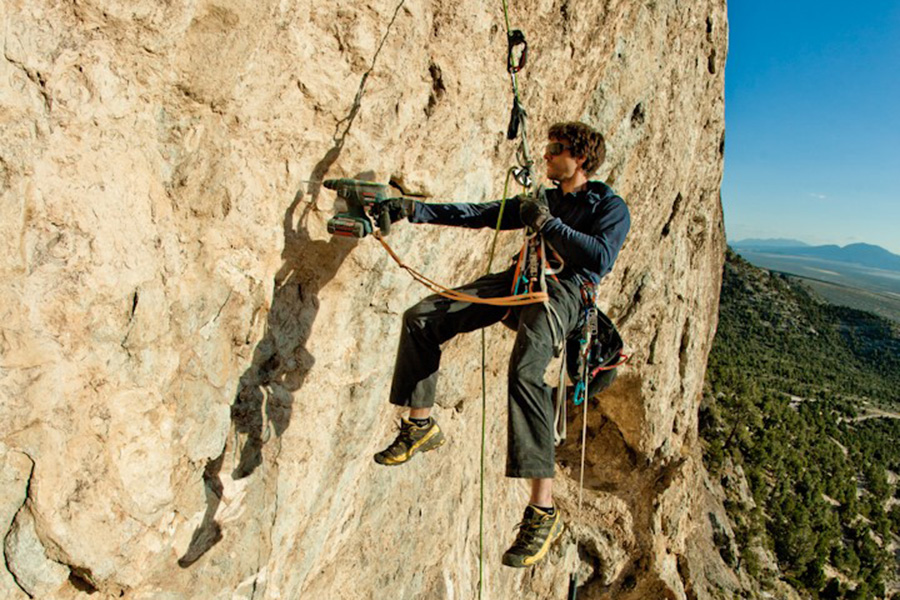 Do you have to take into account your surroundings? How so? Approach? Safety?
For sure. When I am bolting in the middle of nowhere it is a lot more risky than in a place like the Red River Gorge or Rifle. I inform people I know where I will be and when I should be back. Helmets are key if you are going through lose rock and ALWAYS wear eye protection. I have had way too many close calls and my face always seems to be what takes the brunt.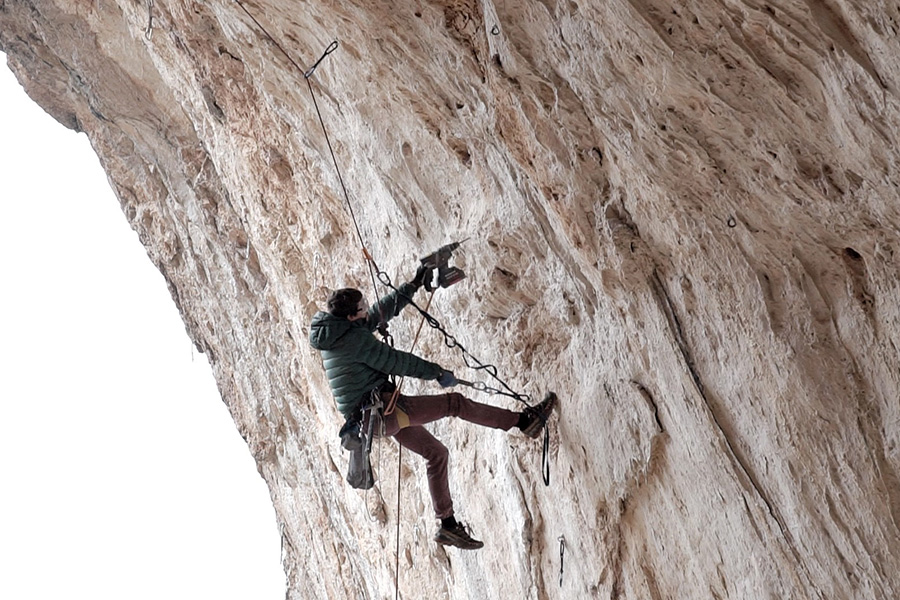 What is the sketchiest route you've developed?
A project in lose rock in the desert. I remember knocking massive blocks off over and over and barely getting solid bolt placements. I never climbed on it and the route actually kept me awake at night due to its sketchy nature. In the end I went back, removed my bolt hangers, and pounded in the studs. You would almost never have known I was there. Deleted.

What route are you most proud of and why?
I have many. Joe Blau, Oliana 8c+. Southern Smoke 8c/+, RRG. Blue Skies Black Clouds 8c+, Zebra Wall, Tahoe. Weekend At Bernie's 8c, Zebra Wall, Tahoe. Bone Tomahawk, 9a, Utah. And many other's I LOVE... projects and things I've sent. Those routes mentioned are some of the best in quality and the responses from climbers has been super positive. That's what I aim for.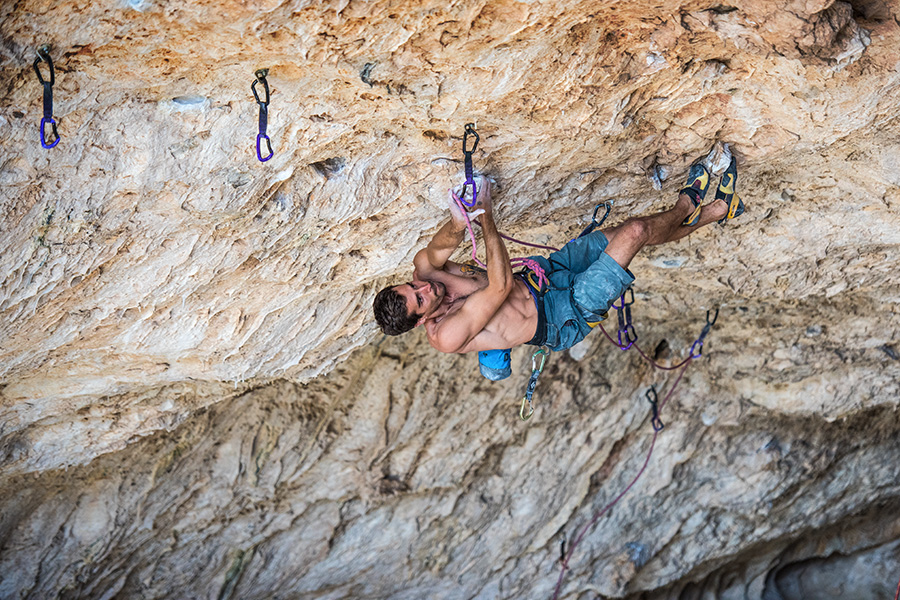 Are there certain ethics involved in developing routes? In terms bolting or not bolting, what types of bolts to use, etc?
Ethics come in all shapes and sizes. It's KEY to respect the land you are bolting on and go by the way of the climbers who are local. They are the ones who will tell you the ethic of the area. All areas have a different way of functioning and it is imperative to understand the rules and regulations of where you want to bolt. Just be smart and ask the questions. If anything go with someone local who can mentor you.

How do you access the wall?
Rap, bolt on lead or literally however you can get the bolts in. HA! Get creative.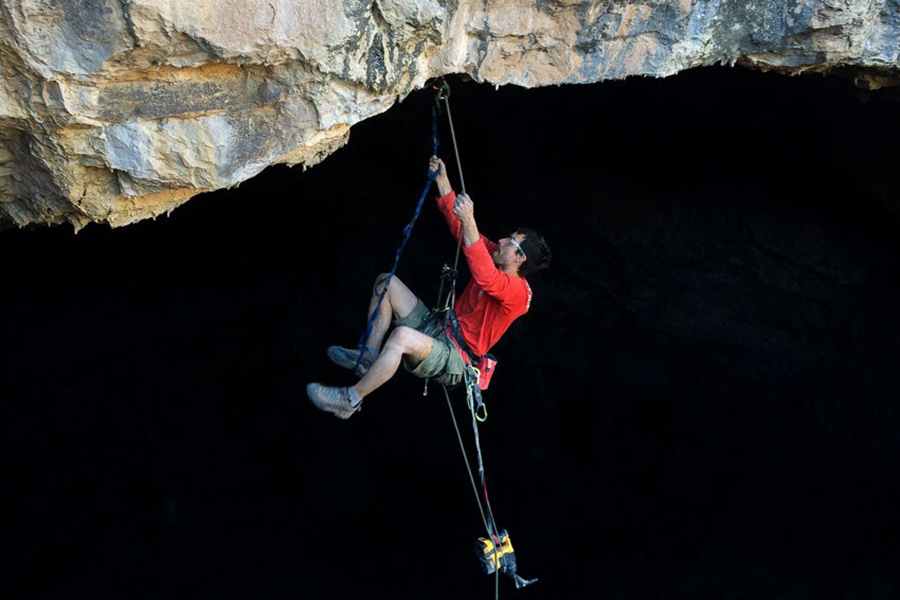 Check out Joe's latest video of bolting and projecting in some not-so-ideal weather conditions and tries his latest Troglodyte project.
Looking to getting into bolting routes? Check out gear to help: