Sterling Test Facilities
As part of being a world-class life safety rope manufacturer, the R&D department at Sterling Rope has the ability to carry out a wide variety of tests on rope, webbing, hardware, and systems in accordance to a range of standards from:
Testing is an extremely important part of product development process as well as quality control throughout our manufacturing process. Employing the various standards allows us to track and compare the results of new designs, materials, equipment, or processes. Sometimes, however, it's necessary for us to create and carry out new test methods in order to gain new information. This new information is important in helping us design new and better products as well as improve existing ones. Our tensile test machine is designed specifically to carry out slow pull tests in accordance with such standards as CI 1801 and EN 1891. It also has the capability of being modified to accomplish customized tests according to customer needs. Currently we have fixtures to test to roughly 30k pounds of force (130kN) on ropes without terminations. For ropes with eye terminations we can test to roughly 50k pounds of force (222kN). This exceeds most requirements for life safety ropes and systems.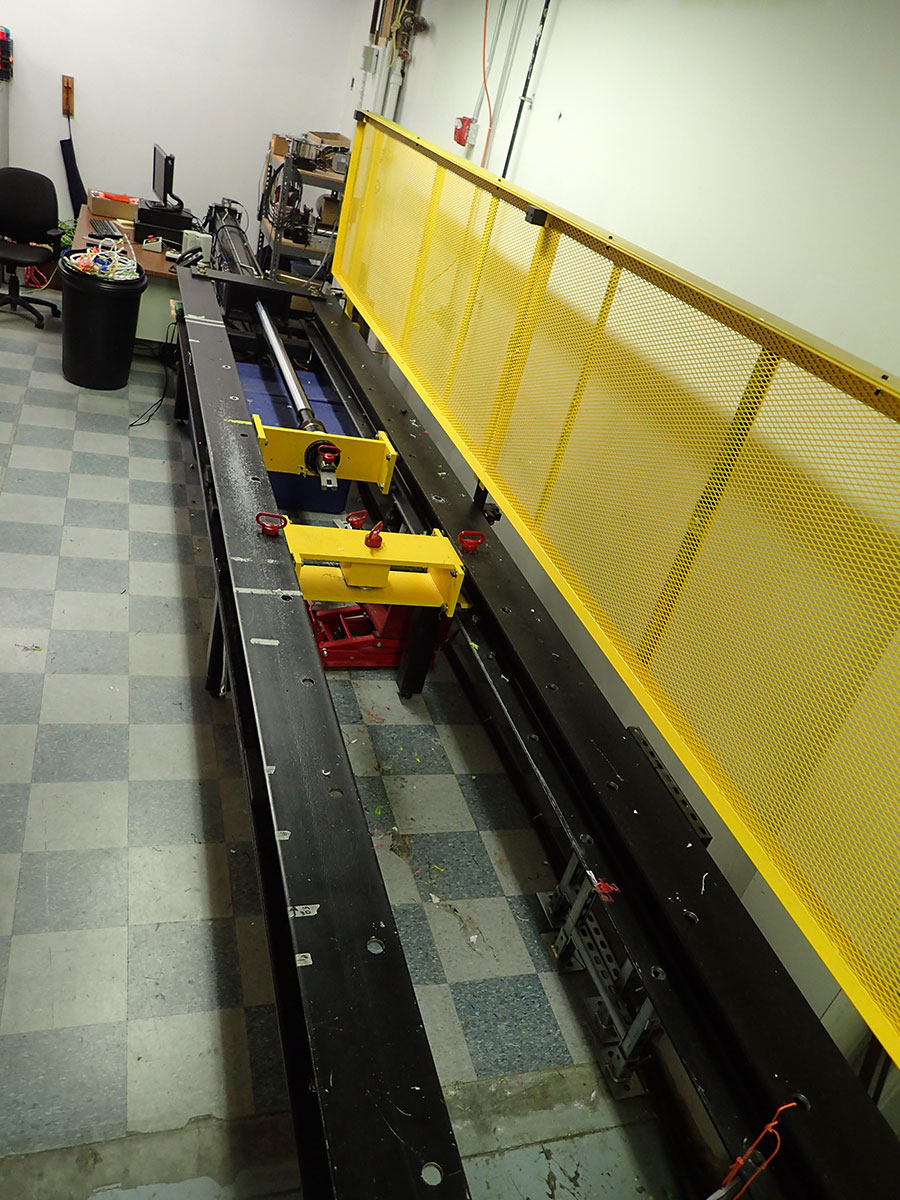 Tensile Tester
Our drop tower is designed to carry out tests in accordance with UIAA 101, EN 892, and EN 1891. Dynamic testing, or drop testing, is conducted to simulate how ropes or systems perform in fall scenarios. It has the capability of running a variety of custom test scenarios with a mass up to 100kg.
Drop Tower
In addition to drop testing and tensile testing, we have the ability to carry out a variety of other tests to determine almost any characteristics about a piece of gear or rope. We can carry out tests such as flex fatigue or cycle test, abrasion resistance, water repellency, heat resistance, and cut resistance. We also have an environmental conditioning chamber with a temperature range of 32oF – 212oF (0o – 100oC) and humidity range of 20 – 96% RH. The chamber is primarily used to precondition test samples of rope, cord or yarn prior to performing standardized testing. With several engineers on staff, we can design and carry out almost any kind of test on rope, hardware, kits and systems or webbing.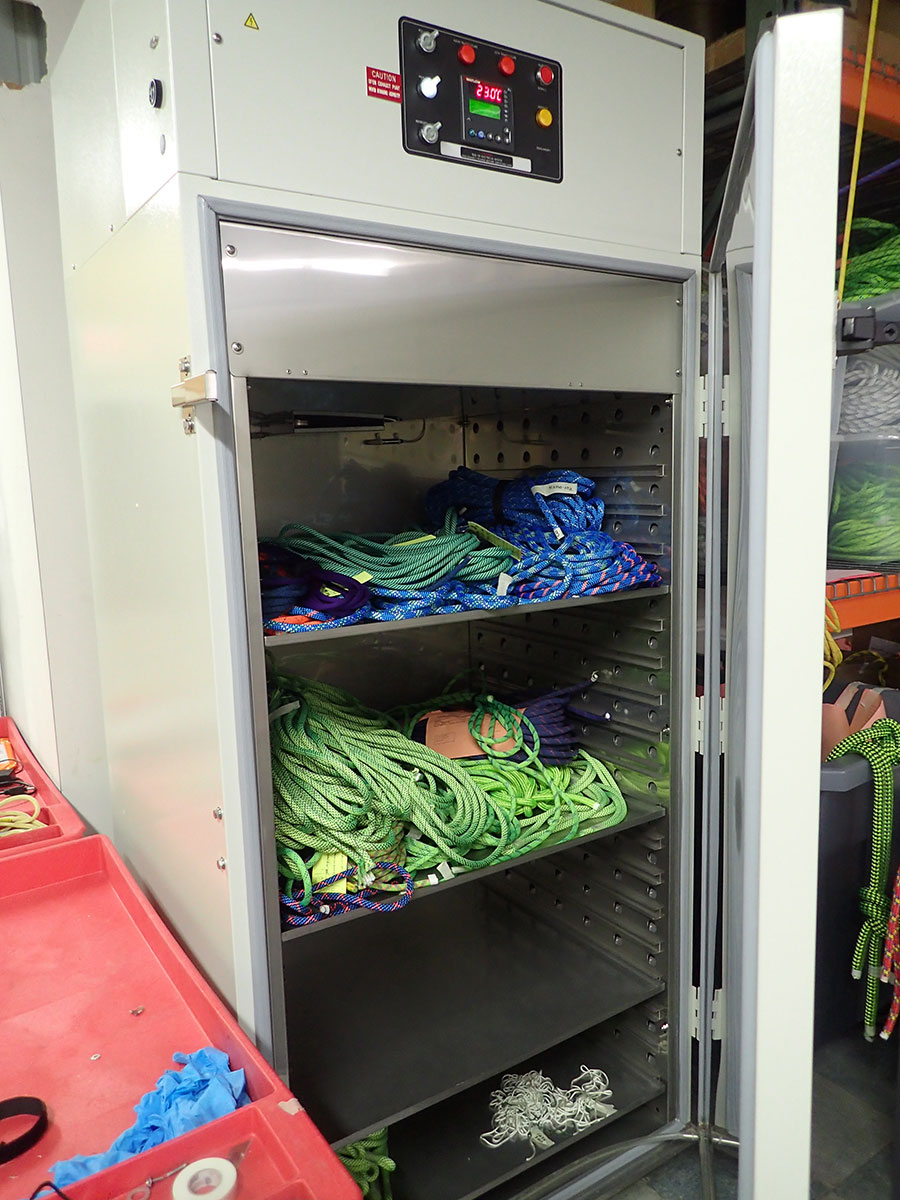 Enviro Chamber
Often times we are asked to test used rope or equipment. We are generally happy to do this, however, we have to point out the multitude of factors that will affect the outcome of the tests. Age, amount of use, loading history, and weather exposure are just some of the things that influence a test that we have no control over. When we have a request to perform tests on rope or hardware, there are a few things we think about before taking on a test project.
Is the data we collect going to be meaningful? Is the number of samples too small?

Which population or market is the test important to? Is it a large population versus just a few individuals?

Should we do the test? Is it going to add to our body of knowledge or is it just for the fun of seeing something break?

Is the test going to cost a lot? Is it worth it?

Has the test been done someplace else and is the data available?

How long will the test likely take? A few minutes or a few years?

Do we have the resources to carry out the test or do we need to build or buy some new piece of cool test equipment? What is the cost of the equipment needed? Will we use it again?
This is not an exhaustive list but many times answering these few questions helps us decide which test projects to take on.
Follow @sterlingrope on Instagram using #sterlinglab to stay in touch with the latest images, testing and updates.
Disclaimer: Sterling and its R&D and Quality Control departments are not certified test facilities for the purposes of legal reporting of test results.
Learn More about Testing:
An explanation of the most important certifications governing the industries we serve and our diligence in meeting and surpassing the standards.
In-house testing we developed to see how several of our ropes handle rough surfaces and edges.
---
---