25 Years, 25 Partners. Profile #4: Kurt Smith
In honor of Sterling's 25 years of making the world's finest rope and cord, we are celebrating our partners who have helped us get to where we are today. We will be profiling 25 dealers and partners across the industries we serve, highlighting our relationship with each.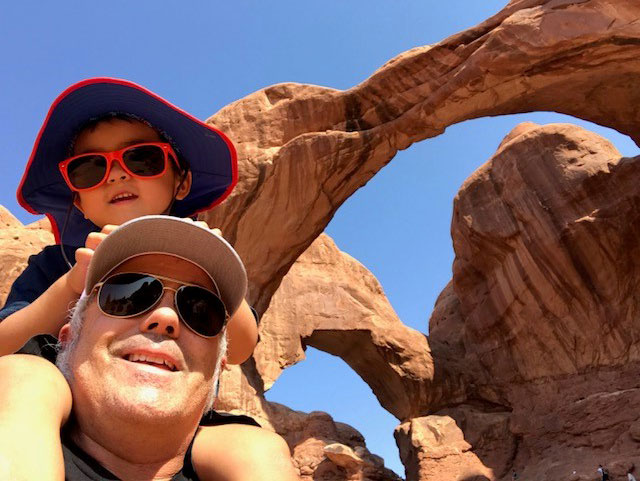 Kurt enjoying the outdoors with his son, Milo.
Kurt is an integral member of the Sterling Team, and has been since the day he started with Sterling. He brought some serious street cred with his climbing background and has a way of getting stuff done; maybe that's how he earned the nickname "the General". He's developed great relationships and has the ability to support dealers and be a great representative for the brand as well. It was fun getting to know Kurt, and his family, from spending time at shows, events, and traveling in the Sprinter to visit dealers. It's always important to talk shop but super enjoyable to get him talking about his days spent in Yosemite, Mexico, and JTree. - Sam Morton, Director of Sales at Sterling
Sterling: How long have you been working with Sterling?
Kurt: I have been a sales rep for Sterling in the SE region for 14 years, and I have been climbing on Sterling Rope for about 20 years now!
Sterling: What do you like about working with Sterling?
Kurt: What I like about working with Sterling, is their commitment to quality and innovation along with the best customer service team in the industry. As a sales rep it's important to have a great team and world class product behind you and that is what Sterling brings to the table. From product concept, production, marketing and sales, they deliver top notch quality every day of the week.
Sterling: What's your favorite Sterling rope?
Kurt: The Nano 9.0 has been my personal favorite since it came out almost 10 years ago. It's super durable for such a skinny cord, easy to clip and light on the harness.
Sterling: Tell us a little about yourself, and your history in the Outdoor Industry.
Kurt: I'm 39 years into the sport of rock climbing. When I began, it was a dirt bag existence- I worked odd jobs to support my habit of climbing boulders, free routes, big walls and ice. I was able to turn it into a profession in 1990 and eeked out a living until 2004 when I got my first rep job, with Sterling Rope. Proud to work with such a great brand and a fantastic team in Biddeford, ME.
---
Kurt is an independent sales rep in the SE Region for several climbing and outdoor brands, including Evolv, Salewa, Nemo Equipment, and more. He lives in West Virginia with his wife and young son, Milo.
---
---